Posted by: Michael M. O'Hear
Category: Seventh Circuit
6 Comments »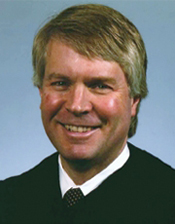 The New York Times reports today that President Obama is set to nominate David Hamiliton, a federal district court judge in Indiana, to an open seat on the Seventh Circuit Court of Appeals.  Judge Hamilton is said to be a moderate who has the support of both of Indiana's senators, Democrat Evan Bayh and Republican Richard Lugar.  This will be Obama's first judicial nomination, so it will no doubt be watched especially carefully for indications of what is to come as other openings are filled.

You can follow any responses to this entry through the RSS 2.0 feed. You can skip to the end and leave a response. Pinging is currently not allowed.