Posted by: Melissa Longamore
Category: Federal Law & Legal System, Political Processes & Rhetoric, U.S. Supreme Court
23 Comments »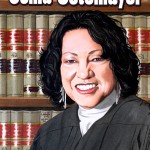 When President Barack Obama nominated Justice Sonia Sotomayor a year ago, the debate surrounding her confirmation included a wide array of scrutiny.  Some of the items of discussion were more relevant and more substantive than others.
As the US Supreme Court's first Latina, third female, and first Type 1 Diabetic to serve on the bench, the greatest amount of focus seemed to fall upon her non-legal, personal history.  Particularly, as this blog has noted, the confirmation hearings concentrated on whether that personal history and her self-identified "Wise Latina"-ness would enhance or detract from her ability to effectively and fairly "say what the law is."
Nearly a year after her confirmation, the evaluation of the Wise Latina's first session as a Justice has already begun.  But what if, a year later, we approached the discussion concerning her role on the Court from another direction?  Instead of a debate centered only on Justice Sotomayor's specific job performance, the discussion might also include the value that comes from choosing a role model that can inspire the underrepresented within the legal community.
A 2003 ABA study found that women comprise only 29.7% of all lawyers, and their presence in the judiciary is even more inequitable: of US Circuit Court judges—20.1%, of US District Court judges—19.2%, and on state courts (of last resort)—26.3%. A similar 2000 ABA study shows that among judges, magistrates, and other judicial employees, the make-up of minorities is as follows: Hispanics—4.5%, Blacks—8.8%, Asians—1.6%.  Unsurprisingly, these statistics are unbalanced compared to the figures on US population by race and ethnicity, and they are bleak compared to the statistics on incarceration.
Assuming our society values a legal community that more closely resembles the greater population, where does that more representative panoply begin?  Every legal professional has a personal narrative that includes his or her reason for choosing such a career.  For a great majority of us, it starts with example.  It is extremely powerful to actually witness that someone like you—someone who may share similar characteristics or personal history—can succeed professionally.
As a Latina entering my second year of law school, I find myself inspired by Justice Sotomayor's career.  Raised by a single parent, I grew up below the poverty-line in Southern California among a rapidly growing Hispanic community.  Something felt familiar as I became acquainted with Justice Sotomayor's story.  According to her official biography, she is the daughter of Puerto Rican parents, grew up in a South Bronx housing project, and after her father's death when she was eight, she was raised by her mother, a nurse.
The confidence I have that I can complete law school and have a successful legal career is not limited to one particular person or opportunity.  But I can testify to the profound inspiration that comes from seeing a well-qualified, confident woman of color, who came from a somewhat similar set of obstacles, hold a position of prestige in the very same professional community I seek to join.
On June 28, Judge Elena Kagan's confirmation begins.  Naturally, I am hoping that her hearing will include a substantive and thorough discussion of her professional credentials.  I am also hoping, though, that part of the discourse includes the value of having more female and minority role models in positions of power in the legal community.

You can follow any responses to this entry through the RSS 2.0 feed. You can skip to the end and leave a response. Pinging is currently not allowed.