Posted by: Mathew Pauley
Category: Negotiation
11 Comments »
When I arrived at my hospital in California, I immediately hit it off with the ombudsperson here. Kaiser Permanente, as it turns out, has a very unique ombuds programs for the health care system. As a conflict resolution nerd, I was very interested in learning more. Going back to my theme about looking outside traditional law jobs, I find it encouraging that there appears to be a growth of jobs as third-party neutrals.  I thought it would be worthwhile to briefly interview my colleague, David Richardson, PhD, regarding what he does as a good illustration of conflict resolution as a field-in-itself. Here is that interview:
Can you introduce yourself?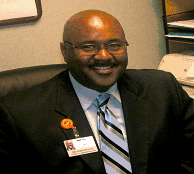 Sure, here you go.
As a Kaiser Permanente Health Care Ombudsman – Mediator (HCOM), I bring a record of experience and success navigating in highly complex environments and working effectively with individuals at all organizational levels from diverse cultural and ethnic backgrounds in health care, academia and medical education administration. For four and a half years prior to coming to Kaiser Permanente, I served at The Charles R. Drew University of Medicine and Science as the Center Administrator for Behavioral Neuroscience Research Center and later as the Administrative Director for the College of Medicine.
In addition to a Ph.D. in Psychology I have an Ombudsman Certificate from the International Ombudsman Association (IOA) and a Mediator Certificate from the School of Law at Loyola Marymount University.   I am presently the only Certified Organizational Ombudsman Practitioner at Kaiser Permanente. The certification is through the IOA certification board of trustees.  Previously, I held certifications in health care administration, behavioral health care administration and correctional health care.  I am a previous Fellow in the American College of Health Care Executives.
Highly developed analytic and communication skills enable me to influence consensus decisions under time and situational pressures. Through active listening and narrative techniques I help parties to develop and generate options to assist in the resolution of individual concerns, organizational change and critical situations.
What does a HCOM do?
Serving as the designated neutral, a Kaiser Ombudsman is neither an advocate for any individual or the organization, but rather is an advocate for fairness.  The Ombudsman provides the continuum of services, including gathering information needed for assessment of the situation, assistance in interpreting institutional policies & procedures, developing options including those "outside the box", and providing necessary interventions such as meeting facilitation, mediation and negotiation.  Your Ombudsman informally investigates complaints — opening lines of communication.  My focus is to assure consideration of those issues unaddressed by other existing channels such as Risk Management, Patient Safety, Quality Improvement or Hospital/Medical Administration.  Using an array of mediation tools such as shuttle diplomacy and other neutral functions (e.g., coaching, conciliation, and brain storming that helps people to help themselves).  In addition, I ethically mediate mutually satisfying agreements before they are in the litigation pipeline, track concerns to closure and provide feedback to senior management.
The primary focus when the Ombudsman is involved is to achieve a  resolution concerning patient-clinician issues at the earliest possible opportunity and lowest possible level, well before they are elevated to a legal claim.  Typical interventions may involve issues of:
Perceived medical mistakes
Unanticipated adverse outcomes
Dissatisfaction with the treatment outcome
Quality of care concerns
Poor patient-clinician interactions
Potentially compensable events
Lastly, in my role I bring an appreciation of how physicians are affected when their patients achieve less than optimal results or incur unanticipated adverse outcomes.  The medical clinician is often the forgotten victim in cases that have a poor medical outcome.  So I am sensitive to that fact and ensure that my services are both accessible and useful to physicians and other clinicians.
Can you speak to the art versus science of conflict resolution? In other words, how important has formal training been in your practice and what concerns do you have if any regarding lacking in training?
Training in my view is very important for those working in conflict resolution.   It is not sufficient to be a good listener, although listening skills are important.  Nor are highly developed problem solving skills wholly enough.  What is required is adequate training and supervised practice in communication, problem solving, negotiation and behavioral analysis in order to be a successful practitioner.   Having said this I recognize that there are successful practitioners who do not have formal training, and have not spent time in supervised practice nor have they developed a habit of reflecting on their practice with one or more trusted colleagues.  They are in the minority and a reasonable argument can be made for and con to new practitioners beginning this way.   What I have seen in my own practice and as a result to observing the practice of colleagues is this, without proper training you have a low probability of success.  Even with training there is no guarantee of successful practice.  But the trained neutral has a better chance of success and can be more aware of opportunities for practice improvement.   My last statement reminds me of my father's favorite saying regarding education and training, "As long as you know what to do you can always work.  When you understand why you do you can always improve."
Based on my experience as a psychologist working with people under stress and in distress, I have come to realize that both art and science are necessary in order to provide the best practice environment, offer the most appropriate interventions and have the biggest impact in working with people through medical conflict.  Here's what I mean:   It is inefficient to develop my practice as a neutral based on the anecdotal evidence of my few cases and constricted experiences. It is far better to base my practice on the evidence available in the literature and from research where sample are sufficiently large to produce results that have a high probability of being caused by factors others that chance.  The problem with developing evidence-based practice as a neutral is the paucity of reliable research available to us practitioners.  But where it is available we should evaluate and use it. That's the science.
The art of practice is required because we are working with people, who may share some similarities, but are at their core individuals, often with unique and idiosyncratic responses to the same event or intervention.  So the techniques we use must be nuanced and massaged to produce the intended result.  Not only are people different from each other in their responses but tend to be inconsistent in how they respond across time, situations and people even when those factors are very similar.
And, for our legal audiences, are any HCOMs JDs?
The HCOMs as a group come from various backgrounds and professions, not all of which are in health care.  Of the 28 HCOMs practicing in California across 35 locations, five are lawyers.  Point of fact, of the last three new hires two are lawyers.   The education and experience is diverse among the group.  There are registered nurses, psychologists, marriage and family therapists, social workers and business people practicing as Kaiser HCOMs.   What is common among them is the training as both Ombuds and Mediators.  While some have been mediators or other types of neutrals before coming to Kaiser each person is given specific Ombuds training based on the Standards of practice and ethical guidelines from the International Ombudsman Association and interest-based mediator training.
Questions from the audience?

You can follow any responses to this entry through the RSS 2.0 feed. You can skip to the end and leave a response. Pinging is currently not allowed.