Posted by: J. Gordon Hylton
Category: Marquette Law School, Marquette Law School History, Public
1 Comment »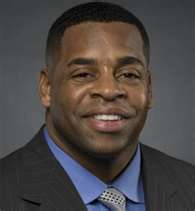 Among those receiving degrees at the 2012 Marquette commencement was former Green Bay Packer linebacker George Koonce. Koonce, who took several classes at the law school while a graduate student at Marquette, received his PhD degree in Interdisciplinary Studies.
Koonce's doctoral dissertation was entitled "Role Transition of National Football League Players: Using the Grounded Theory." The dissertation was directed by Dr. John Cotton of the School of Business Administration.
Between 1992 and 2000, Koonce played nine seasons in the National Football League, all but the last with the Green Bay Packers. (His final season was with the Seattle Seahawks.) The graduate of East Carolina University ran back two interceptions for touchdowns and made over 500 tackles during his NFL career. He was also a member of the 1996 and 1997 Packer teams, which played in Super Bowls XXX and XXXI.
During his graduate school years, Koonce was advised at different times by Marquette law professors Matt Mitten and Gordon Hylton.
A recent story on George Koonce from Milwaukee Magazine can be found at this link.
George Koonce's recent guest column for the ESPN NFL Blog, entitled "Surviving Life after the NFL," can be found here.

You can follow any responses to this entry through the RSS 2.0 feed. You can skip to the end and leave a response. Pinging is currently not allowed.