Posted by: J. Gordon Hylton
Category: Public
3 Comments »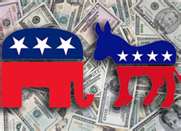 In the current National Law Journal, Matthew Huisman reports that lawyers and law firms have donated significantly more money to Democrat President Barack Obama than they have to his Republican challenger, Mitt Romney. According to the records of the Federal Elections Commission, members of the legal profession have contributed $15.4m to Obama during the 2011-12 Presidential cycle while contributing only $6.8 million to Romney. Other Republican presidential aspirants received $2.1m.
The pattern in 2012 is essentially the same as in 2007 and 2008. In that election cycle lawyers contributed $46.5m to Barack Obama and $16.5m to Hilary Clinton, but gave only $10.4m to John McCain.
An earlier study of campaign contributions by law professors at the "Top 20" law schools between 1991 and 2002 conducted by Prof. John McGinnis of Northwestern University showed an equal imbalance. Of professors who donated to presidential candidates, 81% donated exclusively or primarily to Democratic candidates while only 15% donated exclusively or primarily to Republicans. The other 4% divided their donations between the two parties. At 18 of the 20 law schools surveyed Democratic donors predominated. At two (Northwestern and Virginia), the faculty was equally divided between Republicans and Democratic donors.
A similar survey conducted in 2008 of the faculty donations patterns at 17 law schools found that 93% of money donated by law professors to presidential candidates went to Democratic candidates. At Harvard, Chicago, Michigan, Stanford, Texas, UC-Berkeley and Pennsylvania no law professors donated to Republican candidates. Only at Northwestern did law professor donations to Republican candidates exceed those to Democrats. Vanderbilt, with 43.1%, had the second highest percentage of money donated to Republican candidates. Virginia, which showed up as one of the more Republican law schools in the McGinnis survey ranked 4th of 17 schools in percentage of donations going to Republican candidates, but its percentage was only 22.2%.
According to the Huffington Post's Fundrace Database, only two Marquette Law professors contributed to presidential candidates in the last election cycle, and they split 50/50 between the parties.

You can follow any responses to this entry through the RSS 2.0 feed. You can skip to the end and leave a response. Pinging is currently not allowed.