Posted by: Anna High
Category: International Law & Diplomacy, Popular Culture & Law, Public
10 Comments »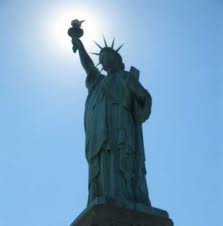 By now I imagine most readers have read Vladimir Putin's New York Times op-ed, published yesterday. In the piece addressed to the American people and their political leaders, the Russian President argues against military intervention in Syria and urges adherence to the United Nations Charter to "preserv[e] law and order in today's complex and turbulent world … to keep international relations from sliding into chaos."
Putting the debate on the morality and legality of a possible US strike against Syria to one side, I found the final paragraph of the op-ed most striking:
My working and personal relationship with President Obama is marked by growing trust. I appreciate this. I carefully studied his address to the nation on Tuesday. And I would rather disagree with a case he made on American exceptionalism, stating that the United States' policy is "what makes America different. It's what makes us exceptional." It is extremely dangerous to encourage people to see themselves as exceptional, whatever the motivation. There are big countries and small countries, rich and poor, those with long democratic traditions and those still finding their way to democracy. Their policies differ, too. We are all different, but when we ask for the Lord's blessings, we must not forget that God created us equal.
As a foreigner, relatively new to the United States, there are many things I have grown to love about this country. I have found Americans, on the whole, tend to approach life with an infectious enthusiasm and optimism, underpinned, it seems, by a cultural discourse of fixed (national) self-belief. For some, though by no means all, this translates into a firm conviction that America is "the greatest country in the world" (Pew Research Study 2011).
I raise President Putin's remarks on American exceptionalism here because the American "presentation of self" is a subject of great interest to me personally, as a relative newcomer to your shores. Moreover, America's global military presence, whether in Syria or Afghanistan or as recently "pivoted to Asia", is presumably predicated on and influenced by domestic beliefs and assumptions, spoken and unspoken, about America's distinguishing characteristics, values and powers. And so I wonder how you responded to the respective remarks of Presidents Obama and Putin on American exceptionalism? Is it an "essential truth" that America is different, and what do we really mean by such a statement? Is it as President Putin argues, a dangerous rhetoric? Or is it a meaningful assessment, descriptively or normatively, of America's relative place in the global order?

You can follow any responses to this entry through the RSS 2.0 feed. You can skip to the end and leave a response. Pinging is currently not allowed.