Posted by: Melissa Love Koenig
Category: Marquette Law School, Public
Leave a Comment »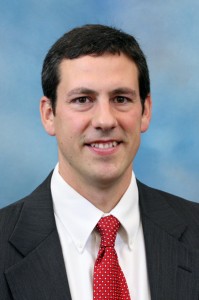 [Editor's Note: This blog is the fourth in a series of interviews with faculty and staff at the Law School.]
Professor Carpenter teaches Legal Analysis, Writing, and Research courses at Marquette Law School. Outside of the law school, Professor Carpenter presents at writing conferences across the country, teaches Continuing Legal Education courses for the Illinois Attorney General's offices in Chicago and Springfield, Illinois, and co-teaches a course, Writing Persuasive Briefs, for the National Institute of Trial Advocacy (NITA). Professor Carpenter is also active on various committees of the Legal Writing Institute.  Before teaching, Professor Carpenter was a civil litigator.
Prior to practicing law, Professor Carpenter was a member of the law review and graduated with honors from Mercer University School of Law. At Mercer, he received the Woodruff Scholarship, the law school's top scholarship award. Professor Carpenter graduated with honors from DePauw University in Greencastle, Indiana. While at DePauw, Carpenter was named an All-American in track.
Question: How did you first become interested in teaching legal writing? 
I became interested in legal writing when I started practicing law and learned how much of a daily, critical role writing plays in a lawyer's job.  Fortunately, I had some colleagues in my firm who were great attorneys, great writers, and great mentors.  I often saw the difference a strong brief made compared to a poorly written brief, and I began to view writing briefs as a fun challenge.  After gaining confidence and experience, I began to really enjoy all aspects of writing briefs.  When I decided to pursue teaching at a law school, I wanted to teach legal writing courses because researching and writing briefs were what I enjoyed most about practicing law.  I wanted to help students develop in those areas because it's such an integral part of practicing law.
Question: What is your favorite brief writing tip?
My favorite writing tip in general is as follows: with every paragraph and sentence you write, go back over it asking yourself "how can I say this in a way that's easiest for the reader to understand?"  Always thinking about the reader is really important.  Your number one job in a brief is to educate the judge about the facts, the law, and why the outcome being sought is justified.  The attorney who can write about a large volume of complicated information in a straightforward, concise, engaging, and easy to understand way always has the upper hand.  To accomplish this, you always have to be testing what you wrote with the reader in mind.
My favorite writing tip for entering 1Ls is to not try to copy the style used in many of the cases you will read this year.  Many of those cases were written 100 years ago with a writing style that is dense, convoluted, and full of legalese.  If you have to read a case, paragraph, or sentence more than once (which you will find yourself doing over and over), it's often not because the underlying concept is extremely difficult–instead, it's because the writing was bad.  While the underlying doctrines those cases establish are important, the legal writing style used in many of those cases is the opposite of how good lawyers write today.  Even Chief Justice John Roberts has said that law students' writing worsens in the first month of law school because they mistakenly think "writing like a lawyer" means to write in the outdated style that the casebook cases were written in.
Question: In addition to teaching memo and brief writing, you teach an upper-level contract drafting course.  What similarities and differences do you see in the approach to brief writing versus contract drafting?
The main similarity is that, whether you are writing a brief or drafting a contract, your goal is to educate the reader and to make it easy for the reader to understand.  Though a contract looks different from a brief, in both you use many of the same techniques to make your writing clear, concise, and precise.
While clear, concise, precise communication is the goal with both, the overall task when writing a brief differs greatly from drafting a contract.  When writing a brief, the attorney comes in after there has been a dispute and tries to resolve it.  The attorney takes the existing facts and law, as they were, and tries to make the best out of them.  On the other hand, when drafting a contract the attorney does the opposite:  the attorney learns what the client wants to happen and then creates the law (the contract) that will control.  If done well, a well-written contract can preclude many disputes from occurring.    Brief writing is backward looking, while contract drafting is forward looking.
Question: What is your favorite contract drafting tip?
Learn how to use forms properly.  Contract drafting does not equal copying a form.  Attorneys who draft contracts use forms regularly to help them generate ideas and get started, but their final product will often be significantly different from the form off of which it was based.  If you use a form, always assume you will need to revise it by using your own language, reorganizing it, adding provisions, removing provisions, etc.  Forms are a great resource if used as a guide, but simply copying a form without giving it a lot of independent thought can easily lead to malpractice.
Question: What's your go-to editing or style manual?
Either A Writer's Reference, by Diana Hacker, or The Redbook: A Manual on Legal Style, by Bryan Garner.
Question: When you're not teaching legal writing, what hobbies occupy your time?
I have three kids, so any spare time I have is typically spent spending time with them or watching them in their activities.  Adopting my kids' hobbies and spending time with them is what I enjoy the most at this point in my life.  Hobbies I used to have, which I still try to do when I can, include making furniture, watching sports, mountain biking, playing basketball, spending time up north, traveling to national parks, watching movies with my wife, reading, and listening to music late at night when everyone else has gone to bed.
Question: Who is your favorite author? 
Raymond Carver
Question: What is your favorite band?
The Samples, and Pearl Jam
Question: Who has influenced your professional career?
Several people, but the person who has probably led most directly to me being a writing professor is Andrea Sununu, my British Writers professor in college.  At the time, I disliked English classes, and I took British Writers just to fulfill a requirement, excited that it would be my last English class ever.  But Prof. Sununu completely changed the way I viewed writing.  After that course, I ended up majoring in English and loving the challenge writing presents.  I have never met a person who was more dedicated and harder working than Prof. Sununu.

You can follow any responses to this entry through the RSS 2.0 feed. You can skip to the end and leave a response. Pinging is currently not allowed.