Posted by: Bruce E. Boyden
Category: Intellectual Property Law, Public, Sports & Law
Leave a Comment »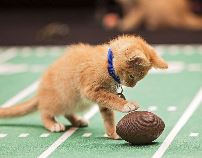 It's almost the time of year when people wonder what size television they can use to display the SuperBowl on. To answer that, I am resurrecting my post from two years ago. Average screen sizes have probably not increased enough to change my conclusion.

You can follow any responses to this entry through the RSS 2.0 feed. You can skip to the end and leave a response. Pinging is currently not allowed.