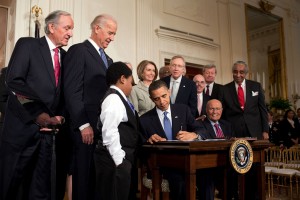 On October 5, I participated in an event at the Marquette University Law School entitled "Supreme Court Roundup" with Cato Institute Scholar Ilya Shapiro.  The event was sponsored by the Law School Chapters of the Federalist Society and the American Constitution Society.  A previous post contained my remarks on Obergefell v. Hodges (the "Gay Marriage case").  What follows are my prepared remarks on King v. Burwell (the "Obamacare case").
The issue in this case was whether the Affordable Care Act's tax credits are available in States that have a federal health insurance exchange rather than a state exchange. In Section 36A, the Affordable Care Act (commonly known as "Obamacare") states that tax credits "shall be allowed" for any "applicable taxpayer." Then, in Section 36B, the Act provides that the amount of the tax credit depends in part on whether the taxpayer has enrolled in an insurance plan through "an Exchange established by the State." (emphasis added).
In King v. Burwell, the U.S. Supreme Court, in an opinion written by Chief Justice John Roberts, held that Section 36B allows tax credits to be used for insurance purchased on any exchange created under the Act, including insurance purchased on a federal exchange.
I want to be clear.  I make the following statement with the intent to be as objective and non-partisan as possible.  This litigation was nothing more than a post hoc attack on the Affordable Care Act, using one isolated provision of the law read out of context in order to arrive at a nonsensical meaning, which then used a manufactured theory of legislative intent – a theory without a shred of contemporaneous support in the legislative history – in a desperate attempt to prop up the nonsensical meaning.
The background of how this case arose is illuminating. Read more »