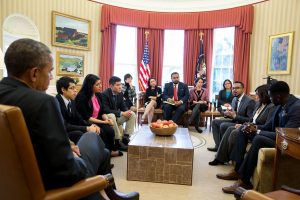 One of the first choices that the Trump Administration will face after the upcoming inauguration is what to do about the "Dreamers."  The name Dreamer has been used both to refer specifically to the young adults currently participating in the Deferred Action Childhood Arrival program (DACA) and, more generally, to any undocumented residents of the United States who were brought to this country by their parents when they were minors.
It is not difficult to be sympathetic to the plight of the Dreamers.  As undocumented residents of the United States, they were subject to immediate deportation under the law as it existed prior to 2012.  However, these longtime residents of the United States often had little memory of their birth country and may not have spoken any language other than English.  They grew up in the United States, and attended U.S. schools, and as a result they share the same hopes and dreams of any native born young adult.  Moreover, they were not morally complicit in their parents' decision to enter the United States.  Prior to 2012, approximately 2 million people essentially found themselves trapped in a form of limbo – feeling American, unconnected to any foreign country, and yet unable to work lawfully in the United States or to plan for their future.
Legislation was first introduced in Congress in 2001 to resolve this situation and to permit these persons to obtain legal residence in the United States.  Titled the Development Relief and Education of Alien Minors Act (or DREAM Act), this first bill and similar versions introduced in subsequent years were designed to create a 6-year pathway to permanent legal residency.  To be eligible under the DREAM Act, a young adult had to have been brought to the United States at a young age, was required to be a college graduate or a military veteran (or be currently enrolled or enlisted), and could not have a criminal record.  The DREAM Act and its successor bills boasted bipartisan support but never passed both houses of Congress, either as a standalone bill or as a component part of a comprehensive immigration reform package.
Frustrated by congressional inaction, President Obama chose to extend relief to the Dreamers in the form of a Presidential Directive. Read more »