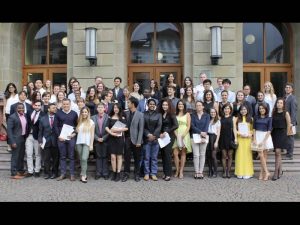 The campus of the Justus Liebig University in Giessen, Germany will be the location of the Ninth Annual Summer Session in International and Comparative Law offered jointly by Marquette University, the University of Wisconsin, and the Justus Liebig University- Giessen.  This program brings together up to sixty students from law schools all over the world to take classes in comparative and international law over a four week session lasting from July 15 through August 12. In addition to students from the United States and Germany, over the years the program has attracted students from Russia, India, Columbia, Brazil, South Africa, Ethiopia, Spain, Vietnam, Italy, the United Kingdom, the Dominican Republic, Korea, Australia, Indonesia and Kazakhstan, among other countries.  Class instruction is in English, and the international student body provides for a unique learning experience.
Faculty will be drawn from the U.S. and Europe.  Each student will select two courses (each course worth 2.0 law school credit hours) out of a total of four courses in the curriculum.  In addition to coursework, the curriculum includes two overnight field trips to Berlin and Hamburg to visit courts, other governmental institutions, and historical sites.  In addition, the program includes speakers on a variety of topics including a panel discussion on differences and similarities in legal education and practice around the world and a discussion of opportunities for further legal study and internships in Europe.
Classes will be held Monday through Thursday, during the day, over the four weeks of the program.  This schedule leaves students with time to explore the cities, villages and countryside around Giessen and nearby Frankfurt, and the opportunity to travel throughout Europe.  Paris to the west and Berlin to the east are a mere 300 miles from Giessen.
Past participants in the program have given high marks to both the substantive learning experience and the opportunity to form international friendships.  Enrollment is open to students who have completed one year of instruction in any U.S. law school.  Students enrolled in law schools outside of the United States should apply through the Justus Liebig University.
A general program overview, travel and tuition details, course descriptions and faculty biographies can be viewed online.  An application form can be downloaded here.  Apply now and I will see you in Germany this summer!