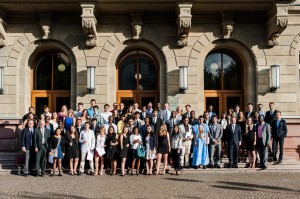 Application materials are now available for the 7th Annual Summer Session in International and Comparative Law, held each summer at the Justus Liebig University in Giessen, Germany.  The program is a joint offering of the Marquette University Law School, the University of Wisconsin Law School, and the Faculty of Law at Justus Liebig University.
This summer's program will run from July 18 until August 15.  Participants choose two courses from among the following offerings, for a total of four credits : International Economic Law and Business Transactions, Comparative Law, The Law of Armed Conflict, and International Intellectual Property Law.  All classes are offered in English.
Each summer, the program attracts participants from Marquette, UW, other American law schools and students from all over the world.  This past summer, international students came from Turkey, Portugal, Togo, Ethiopia, Brazil, Vietnam, Italy, Great Britain, Colombia, Germany and Australia, among other countries.  Courses are taught by an international faculty.  Students learn from each other as much as from faculty, as classroom discussions provide different perspectives that cut across legal systems and cultures.
Additional information and an application form are available on the program's webpage.  Course descriptions are available here.  Brief faculty biographies are available here.
Law students considering a study abroad experience should consider these ten reasons for participating in the Summer Session in Giessen, Germany.