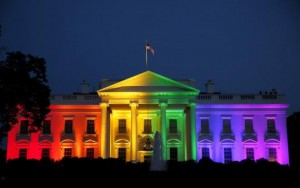 Rainbows abounded on the morning of Friday, June 26, 2015, when the United States Supreme Court held 5-4 that same-sex couples have a constitutional right to marry and a right to have their legal marriages recognized in every state.
The Court's decision in Obergefell v. Hodges was not unexpected. The divide in the Court, too, was not unexpected: Justice Anthony Kennedy wrote the majority opinion for himself, Justice Stephen Breyer, Justice Ruth Bader Ginsburg, Justice Elena Kagan, and Justice Sonia Sotomayor.
(An interesting side note: Justice Kennedy, a 1988 Reagan nominee, has authored all four of the major SCOTUS cases on lesbian, gay, bisexual, and transgender (LGBT) rights: Romer v. Evans, Lawrence v. Texas, United States v. Windsor, and now Obergefall v. Hodges. As well, three of those cases were handed down on June 26—Lawrence on 6/26/03; Windsor on 6/26/13; Obergefell on 6/26/15).
When I first read the Obergefell decision, I found myself skeptical. Make no mistake: I fully agree with and welcome the holding. However, I was concerned about the Court's reasoning. My first thought, upon reading the opinion, was to wonder why the Court did not base its holding more on the Equal Protection Clause, like Judge Richard Posner did in his opinion in Baskin v. Bogan, 766 F.3d 648 (7th Cir. 2014). That seemed to me to be the easiest argument. There is simply no compelling justification for the State to distinguish between opposite-sex and same-sex couples when it comes to marriage.
So, when I got to Chief Justice John Roberts' dissent, it initially made some sense to me, and I could envision its appeal to many others. Read more »