Part Six of a Six Part series on Election Law, providing context to our system of government, our election process and a little history to evaluate and consider in the candidate-debate.
In an age where the presidential vote is relatively close, a two-party system dominates politics, and the average voter recognizes that voting for an independent/splinter candidate has no real shot at electoral success, is this really what the framers intended in 1787 when drafting the Constitution of the United States?
Doubtful.
Not only was the Electoral College system problematic almost from the moment it left the starting block, but the election process has grown more complicated, more winner-takes-all, and more divisive than perhaps the delegates could ever have imagined.
For instance, in 1797, Th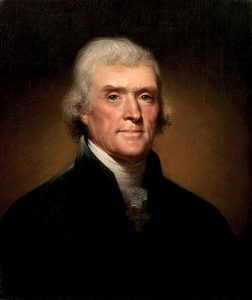 omas Jefferson, the then-sitting Vice President, wrote a letter to his colleague, Edward Rutledge, in which Jefferson reported that the mood of the nation's capital had become politically divisive:
"The passions are too high at present, to be cooled in our day. You & I have formerly seen warm debates and high political passions. But gentlemen of different politics would then speak to each other, & separate the business of the Senate from that of society. It is not so now. Men who have been intimate all their lives, cross the streets to avoid meeting, & turn their heads another way, lest they should be obliged to touch their hats. This may do for young men with whom passion is enjoyment. But it is afflicting to peaceable minds. Tranquility is the old man's milk." (Jefferson to Rutledge, June 24, 1797, in Jefferson, Papers, 29:456-57.)
Does Jefferson's report of a political divide — in 1797! — sound familiar when looking at today's election debate?