Part Four of a Six Part ser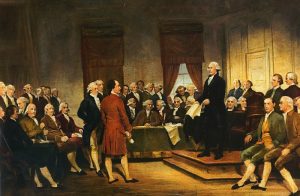 ies on Election Law, providing context to our system of government, our election process and a little history to evaluate and consider in the candidate-debate.  Prior blog posts mentioned party-politics as having emerged during the Constitutional debate — in the framing days of the late eighteenth century, delegates began aligning along federalist and anti-federalist divides. Alignment shaped the compromise that became the Constitution of the United States, with the process of choosing the President — indirectly through electors — an example of compromise at work.
The compromised solution was complicated. Rather than allowing election by the populous or allowing Congress to choose the position, each state was given a number of "electors" and these electors would vote for the President.
Each state was left to determine the manner of selecting their electors, thus allowing the states a role in choosing the president. The electors would choose the president on the same day, all in an effort to even the playing field, as it were, in election and governance.
So how did it work, at least initially?
It was a problem.