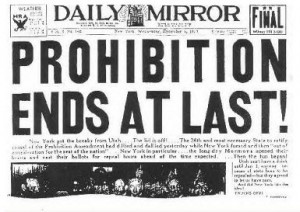 This past December 5 marked the 80th anniversary of the repeal of Prohibition, America's experiment in the creation of an alcohol-free society.
Prohibition officially ended in 1933 with the ratification of the 21st Amendment to the United States Constitution. The new Amendment repealed the earlier 18th Amendment, which had made the sale and consumption of alcoholic beverages illegal in the United States.
The repeal of Prohibition is an event that has been celebrated daily in Wisconsin for the past eight decades.
Somewhat remarkably, Wisconsin, long associated with the production of alcoholic spirits, did actually vote for Prohibition. On January 17, 1919, in the wake of intense anti-German sentiment throughout the United States and in the aftermath of World War I, in which the U.S. government had used its war powers to sharply curtail the production of alcoholic beverages, the Wisconsin legislature approved the 18th Amendment by a majority vote. However, in "defense" of the legislature, Wisconsin's approval did not come until after the Prohibition Amendment had already been ratified by the requisite number of states to bring it into law. Read more »