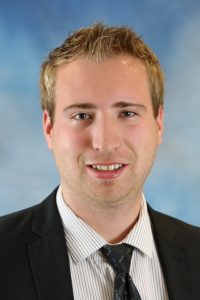 The 24th Annual Howard B. Eisenberg Do-Gooders' Auction on behalf of the Law School's Public Interest Law Society (PILS) was held on February 17 at the Law School.  Proceeds from the event go to support PILS Fellowships to enable Marquette law students to do public interest work in the summer.  David Conley, a current law student, shares his experience here as a PILS Fellow.
Where did you work as a PILS Fellow?
The Wisconsin State Public Defender's Office—Juvenile Division Milwaukee County
What kind of work did you do there?
The Law Offices of the Wisconsin State Public Defender represents indigent people who face criminal charges. However, the State Public Defender's Office actually covers a variety of different cases where people are in need of legal representation. Milwaukee County is divided into two main offices. One office, (MKE Trial) handles adult criminal cases. The other office, (MKE Juvenile) represents juvenile clients facing a variety of life obstacles. These obstacles could be: (1) a juvenile delinquency petition, (2) a CHIPS (child in need of protective services) petition, or (3) a JIPS (juvenile in need of protective services) petition. The public defenders office advocates for juveniles who are in desperate need of legal help. The juvenile office also handles TPR (termination of parental rights) cases, and mental health commitment cases. As a Public Interest Law Society Fellow, it was my responsibility to assist the staff attorneys in the successful representation of these clients.