This is the second part of a three part series on Women in Wisconsin Law.
Although women were admitted to practice law in Wisconsin in 1879, it would be over one hundred years until the state's first elected female county judge.  In 1970, Olga Bennett, a native of Vernon County, was the first woman elected and sworn in as a county judge in Wisconsin.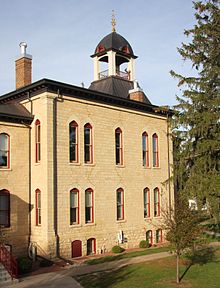 Bennett was born on May 5, 1908, in Viroqua, Wisconsin. Education played an important role throughout Bennett's life.  In 1925 she graduated from Viroqua High School, and in 1928, she graduated with a bachelor of arts degree from the University of Wisconsin.  After taking time following her undergraduate studies to work at a local bank, she returned to her studies four years later.  After spending a semester at the Madison Business School, Bennett enrolled at the University of Wisconsin Law School in Madison, Wisconsin.  In 1935, she graduated from law school and was admitted to the state bar.
Upon graduating, Bennett served as a law clerk for State Supreme Court Justice John D. Wickham for five years.  Following this clerkship, she went into business with her father, who was also an attorney.  Together they ran the Bennett and Bennett law firm.  Before being elected to serve as a judge, Bennett held various positions in the legal community, including serving as the first female city attorney of Viroqua.
Although one might have expected that a larger county in the state, such as Madison or Milwaukee, would have been the first to elect a female county judge, it was small Vernon County with a population of only 28,000 that holds this title.  In April 1969, Bennett ran and was elected to the bench in Vernon County (courthouse pictured above at left), defeating incumbent County Judge Larry Sieger who was appointed by the governor in 1968.  In 1970, she took the oath of office and became the second woman to serve as a judge in Wisconsin.   Read more »