About Us
Mission
At the MVLC, volunteer attorneys and Marquette law students serve the Milwaukee community by providing brief, pro bono legal advice and referral services to individuals in need of brief legal advice, while providing students with the opportunity to serve the community, enhance their classroom learning, observe practicing attorneys, and be mentored by attorneys.
Vision
To provide free, brief legal advice and referrals to individuals who would otherwise have limited or no access to the civil legal system.
To provide a hands-on, real life, educational experience for students and to assist them in acquiring and developing skills necessary to practice law, all under the guidance of actual legal practitioners.
To instill in the volunteer law students a recognition of their unique societal role and privilege as future members of the legal profession and the corresponding pro bono obligations of the profession.
To reinforce and affirm the commitment of both the volunteer students and lawyers to be Marquette Lawyers, through association with other Marquette Lawyers donating time and talent to pro bono activities.
To fulfill the Jesuit and Ignatian mission to be a person for others.
Members of the 2016-2017 Student Advisory Board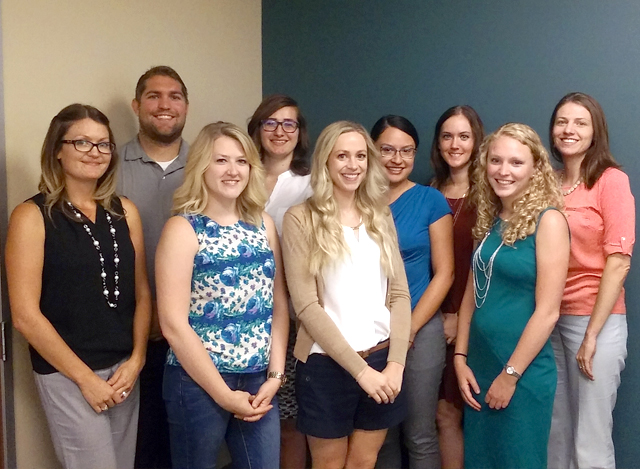 Pictured above from left to right: Andrea Jahimiak, Nicholas Sulpizio, Rachel Treuer, Corrine Frutiger, Erica Stoltz, Melissa Maldonado, Jill Halverson, Nettie Rauch, and Jessica Lothman. Not pictured: Jason Moore.
MVLC Advisory Board
Pictured above from left to right: BJ Westfahl, Westfahl & Westfahl, S.C.; Katie Perhach, Quarles & Brady LLP; Judge Laura Gramling Perez, Milwaukee County; Katrina Hull, Michael Best & Friedrich LLP; Lars Gulbrandsen, Quarles & Brady LLP; Amy Wochos, Milwaukee County; Julie Darnieder, Founder and Advisory Board Chair.
Recent Volunteer Newsletters
Annual Reports