May and August 2019 Graduation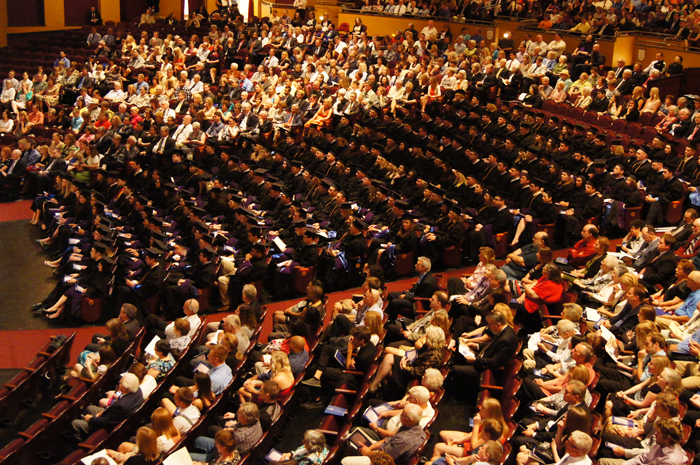 Marquette University Law School will celebrate the accomplishments of its May and summer 2019 graduates the weekend of May 18-19, 2019. Please continue to check this page for updates about graduation weekend, as additional information will be posted periodically.
All-University Baccalaureate Mass
Saturday, May 18, 2019
4:30 p.m. until 6:00 p.m.
UW-Milwaukee Panther Arena
400 W. Kilbourn Avenue
Mass will be celebrated at the UW-Milwaukee Panther Arena, 400 W. Kilbourn Avenue, Milwaukee. The arena is adjacent to the Milwaukee Theatre.
Attendance is optional.
Academic apparel is not worn.
There is no limit to the number of guests a student may bring to Mass.
Seating is on a first-come, first-served basis.
Law School Hooding Ceremony
Saturday May 18, 2019
6:45 p.m. until 9:15 p.m.
Miller High Life Theatre
500 W. Kilbourn Avenue
The hooding ceremony and reception will be held at the Miller High Life Theatre (formerly the Milwaukee Theatre), 500 W. Kilbourn Avenue, Milwaukee. 
At the hooding ceremony, law graduates are recognized individually and receive their academic hood and diploma cover from the Dean.
Graduates must arrive by 6:00 p.m. to line up for the processional .
Academic apparel is worn.
Graduates will be sent information regarding how to RSVP for the ceremony and reception in early March. Please RSVP here before Tuesday, March 25. 
Graduates may invite up to eight (8) guests, free of charge, and up to 15 guests in total. There is a $10 per person charge for additional guests (ages 12 and over) beyond the first eight guests. 
Graduates will have the opportunity to request seating for additional guests (beyond the first 15 guests), and those requests will be honored as space allows, once all graduates have submitted their guest counts.
If interested in purchasing graduation announcements, please click here.  
Doors open to the lobby at 5:00 p.m. and to the house for seating at 6:00 p.m. 
At the event, seating is available on a first-come, first-served basis. Guests need to be seated by 6:30 p.m.
Reception will immediately follow the ceremony. 
Marquette University Commencement Ceremony
Sunday, May 19, 2019
9:30 a.m.
Fiserv Forum
1111 Vel R. Phillips Avenue
The all-University Commencement Ceremony will be held at the Fiserv Forum
 Attendance is mandatory for all graduates by University directive. Requests for permission to be excused from the all-University Commencement Ceremony must be submitted via email to Ms. Sarah DiStefano and approved by the Dean.
Graduates must arrive by 8:45 a.m., using the BMO North and East Entrances (corner of Juneau and Vel R. Phillips), to assemble for the processional. Locations 1A and 1B on the map here. 
Diplomas will be distributed immediately following the ceremony on the southeast suite level. You can get to it from the Atrium entrance and take the escalators or elevators to it, and there will be plenty of signage to follow. 
There is no limit to the number of guests a student may bring to the All-University program. Seating is on a first-come, first-served basis.
Last minute details regarding both the Hooding Ceremony and All-University Commencement Ceremony can be found here.  
For more information on the baccalaureate mass, university commencement activities, hotel accommodations, and other resources, please click here. 
Cap and Gown Pickup
Tuesday, May 14: 10 a.m. – 6 p.m.
Wednesday, May 15: 10 a.m. – 4 p.m.
Alumni Memorial Union
Marquette Place, Second Floor
For questions regarding the Law School Hooding Ceremony or All-University Commencement, please contact Ms. Sarah DiStefano,Student Affairs Specialist.
---
Wisconsin Supreme Court Group Swearing-In Ceremonies
Monday, May 20, 2019
The group swearing-in ceremonies for eligible diploma privilege admission candidates will be held in Madison at the Wisconsin Supreme Court, Capitol Building. Specific details regarding the time of the ceremony will be available within the next two months or so.  You will be notified by the Clerk of the Supreme Court of your eligibility in April, and will receive a reservation form for your ceremony. It is your responsibility to check on the status of your application with the Board of Bar Examiners (BBE).
For questions or concerns regarding the Wisconsin diploma privilege application process, contact Ms. Stephanie Danz, Assistant Registrar.