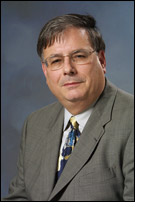 Francis de Sales, the bishop of Geneva in the early 1600's, said "the measure of love is to love without measure." The late Dean Howard Eisenberg embodied this message. Dean Eisenberg gave his love without measure to the Law School, the legal community, and the pro bono clients he served.
I met Dean Eisenberg shortly after I graduated from college. At the time, I was teaching high school English. Dean Eisenberg talked to me about the legal profession as a helping profession — that lawyers are uniquely situated to protect and aid the individuals and entities they serve. Dean Eisenberg's comments so inspired me that I decided to apply to law school. Dean Eisenberg's presence at the Law School also convinced me that it was the right place to go to school. Any place, I thought, that had the good sense to have him at the helm was a place where I wanted to be.
In my second year of law school, Dean Eisenberg again influenced my life when I took his appellate advocacy course. That class turned me onto advocacy. I remember the thrill when I found the key case for my side in the Wisconsin reporter stacks. As I drafted the brief, I felt the joy of crafting language that would persuade a court. In that class, we also had to make an oral argument. I enjoyed turning my brief into an oral argument and observing how my use of language changed from its presentation in written form to oral form. I was hooked on advocacy, and I decided to go into litigation.
The last memory I have of Dean Eisenberg came two weeks before his untimely death.
I helped judge a moot court practice round for a team he was advising. After the practice, I sent him an email. I will always remember the last sentence in his response: "Please let me know if I can do anything for you." This line best captured Dean Eisenberg's spirit. Dean Eisenberg focused intentionally on the individual who was at the receiving end of his attention. When Dean Eisenberg focused on an individual, he did so not only with his mind, but with his heart. I am not alone in having received this type of communication from him. I have told this story to classmates and others who knew him, and many have similar stories to tell.
Dean Eisenberg, in addition to his numerous duties as the dean of the Law School, was committed to pro bono service on behalf of criminal defendants. The Law School's Public Interest Law Society (PILS) annual auction is named in his honor. The Do-Gooder's auction is titled after his charge to "do well and do good." That motto is a good one to practice by and to live by.