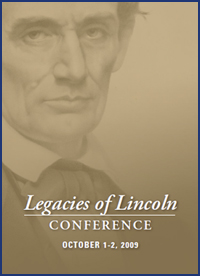 This year marks both the bicentennial of Abraham Lincoln's birth and the sesquicentennial of his visit to Milwaukee to speak at the Wisconsin State Fair. (Lincoln's Milwaukee speech, delivered September 30, 1859, is available here.) To commemorate these events, Marquette University Law School, together with the Department of History, will host a conference entitled "Legacies of Lincoln." This conference, occurring on October 1 & 2, promises to be a very fine event.
First, on Thursday, October 1, at the Alumni Memorial Union, the History Department's annual Klement Lecture will be delivered by Allen C. Guelzo, Professor of Civil War Era Studies and Professor of History at Gettysburg College. Professor Guelzo's Klement Lecture will address "Colonel Utley's Emancipation: The Strange Case of President Lincoln and His Bid to Become a Slaveowner." The lecture will start at 7 p.m., preceded by a reception beginning at 6 p.m.
Second, on Friday, October 2, from 9 a.m. to 3 p.m. at the Law School, the conference will feature three panels variously addressing aspects of Lincoln's career and legacy:
"Lincoln and Politics": Heather Cox Richardson, University of Massachusetts–Amherst, will be joined on the panel by Alison Clark Efford and James Marten, both of Marquette University.
"Lincoln and the Constitution": Michael Les Benedict, The Ohio State University, will participate in a panel that will include Stephen Kantrowitz, University of Wisconsin–Madison, and Kate Masur, Northwestern University.
"Lincoln as Lawyer": Mark E. Steiner, South Texas College of Law and author of An Honest Calling: Lincoln's Law Practice, will speak, along with Joseph A. Ranney, DeWitt Ross & Stevens, and Thomas L. Shriner, Jr., Foley & Lardner, both of whom are adjunct faculty at the Law School.
Advance registration is required for the conference, which is free except for lawyers seeking 4.5 hours of CLE credit ($40). Conference information and a link to the registration page are available here. Particular thanks to Professor Dan Blinka for his work in helping to organize this conference and to Professor Jim Marten, chair of the History Department, for making common cause with the Law School in leading the conference. I hope that many of you will register and join us.