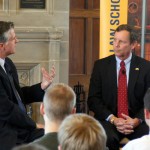 Mark Neumann is not Lee Dreyfus, but if Neumann is going to be elected governor of Wisconsin this year, it's going to be by capitalizing on much of the appeal that Dreyfus had in 1978 as a Republican who was glad to say that he was not versed in the ways of Madison's state capitol.
Neumann invoked his standing as a businessman who is not a professional politician often in an "On the Issues with Mike Gousha" session at Marquette University Law School last week.
Neumann is regarded widely as the underdog in the race for the Republican nomination for governor, with Milwaukee County Executive Scott Walker the favorite. The winner is expected to face Milwaukee Mayor Tom Barrett, the only major candidate for the Democratic nomination, in the November final election.
In answering questions from the audience and from Gousha, the Law School's distinguished fellow in law and public policy, Neumann did not take much issue with Walker on policy. Both strongly oppose the high-speed rail project proposed for Chicago to Milwaukee to Madison, both have strongly criticized the new national health insurance law, and both advocate holding down taxes and cutting state regulatory requirements on businesses.
Neumann said the key difference between Walker and him is background. Walker has been a member of the state Legislature and the county executive for the last 16 years. Neumann served in the US House of Representatives from 1995 to 1999 and lost a close race for the US Senate in 1998 to the Democratic incumbent, Russ Feingold, but he has spent most of his career in business, primarily as a home builder.
"I would suggest to you  . . . what we need is someone from the private sector to step forward," Neumann told Gousha. He said at critical times in American history, it was people who were not professional politicians who took on leadership roles and had great positive impact. He cast his own candidacy in those terms. He said it would be a plus to have someone not shaped by the way things have been done in Madison who can step in and make government "get out of the way" so that growth and job creation can return Wisconsin to good economic health.
Neumann said Wisconsin was discouraging business people from locating or expanding here by politicizing so many decisions. Asked about the controversy over how the Zoo Interchange, Wisconsin's most heavily traveled roadways, came to be in such bad shape, he said he did not want to take part in the rounds of blame and criticism that went on in recent days among Walker, Barrett, and Gov. Jim Doyle. He said if he were governor, he would focus on what was ahead, in terms of making sure such things didn't happen elsewhere in the state, and not the past. He said business people were likely to look at the political debate and say, "This state is all about politics."
Asked about education, Neumann said he wanted to eliminate caps on how many students can attend private schools in Milwaukee that take part in the state-funded voucher program, as well as how many can attend charter schools. "I'm a strong proponent of public education where public education is good to great," he said, but he favored more emphasis on voucher and charter schools in Milwaukee, where the public school system has not produced good results.
 While Neumann is warm in person, he is no match for Dreyfus, a hugely affable person whose sense of humor and people skills drove a maverick campaign for governor to victory over the Republican Party establishment in 1978. Neumann also is much more ideologically focused than Dreyfus.
 Is the "I'm-an-outsider" label an attractive one this year in Wisconsin? Neumann clearly intends to press his bid to answer that positively. He has put a large amount of his own wealth into the campaign and, despite some in Republican ranks who would like him to drop out of the race, he gives no sign he is going away.