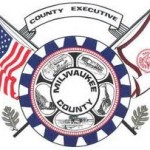 The new guy. The outsider. The insider. The legislator in line with Scott Walker. The former legislator critical of Scott Walker.
A crucial part of running for office, especially when you're not a household name, is establishing an identity in the minds of the general public. The most interesting part of watching the first joint appearance of the five candidates for Milwaukee County Executive last week was not in the position statements and answers the five gave. It was in how they tried to identify themselves.
The session, held in the Appellate Courtroom of Eckstein Hall and moderated by Mike Gousha, the Law School's distinguished fellow in law and public policy, was co-sponsored by the Law School and the Milwaukee press Club. A full house of about 200 was on hand and the session was broadcast later on television.
Even Lee Holloway, a member of the County Board for 18 years, current chair of the board, and acting county count executive, probably doesn't have such a high a level of name recognition, and much of the recognition he has is not so desirable. He has made news frequently for his problems as a central city landlord.
Holloway clearly wanted to establish himself as the candidate with a track record of saving money and protecting services. He pointed several times to his proposals for overhauling mental health services so that there would be smaller residential facilities around the county instead of one large center. The plan would be more cost efficient and provide better results, he said.
But asked by one member of a media panel that asked questions about his landlord issues, Holloway said he was trying to solve problems and he denied he blamed low-income tenants for the issue.
Philanthropist Chris Abele, a first-time candidate for office, introduced himself by saying, "I'm the new guy." He distanced himself from a call to "blow-up" county government that was included in a recent report by a committee of civic leaders that he co-chaired. He said the report aimed to show the urgency of dealing with the county's financial problems and he emphasized that he wanted to work with everyone involved in county issues "to bring back a county that we can be proud of." (A note on image: While the other three male candidates wore jackets and ties, Abele went with the less formal but still business-like shirt-sleeves-and-tie look for the session.)
State Rep. Jeff Stone, a Republican, and Jim Sullivan, a Democrat who was recently defeated for re-election to the State Senate, both cited their legislative work as part of their qualifications for the job. But they took decidedly opposite positions on Scott Walker, who was county executive for eight years before becoming governor this month.
Stone pledged, "I will not raise your taxes," a position that aligns him with Walker and Walker's supporters. "We spend too much money," Stone said. Stone compared county government to a beat-up car, but said the answer was not to have it crushed and junked. "What we've got to do is to make it work," he said. 
Sullivan said "the record of decay and neglect" in county government was tied in large part to Walker. He said he wouldn't use the county executive's office as a springboard to higher office. He said Walker's "anti-government" approach showed a failure of leadership. (A note on image: Sullivan made several references to his military service background.)
Ieshuh Griffin, a para-legal, identified herself as a candidate who is "not into private interests." She said she would emphasize job creation and would "reshuffle some of the administrative mistakes of the former county executive." She is best known publicly for  her unsuccessful effort to have the phrase "Not the white man's bitch" included on the ballot when she ran as an independent for state Assembly last fall. Asked about that, she explained what she meant, word by word, and said it was not intended to be a racial comment.
There were differences in specifics in some of the answers. For example, Sullivan said he might consider a sales tax to cover transportation costs, a contrast with Stone's no-tax-increase position. But there were a lot of similar comments about emphasizing job creation and government efficiency. All supported developing the county-owned, long-vacant swatch of land downtown known as the Park East, but none gave strong answers on how to do that. There were no heated exchanges or eye-brow-raising gaffs.
That may well signal a campaign in which the candidates try to stake themselves to a handful of identifying positions or slogans and aim primarily to build an image that appeals to enough voters in what is likely to be a low-turnout election. A primary Feb. 15 will narrow the field to two, with the final election on April. 5.