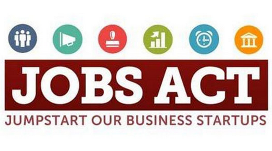 Part one of this blog post concluded that Fantex's IPO represents an unintended consequence of the 2012 JOBS Act.  The costs imposed on startups attempting to go public are significant, and the burden of complying with mandatory disclosure laws can deter even the most-attractive startups from commencing an IPO.  The JOBS Act is intended to decrease the burden on startups attempting to raise necessary capital by reducing the financial disclosure requirements normally imposed on public companies.
One way the Act reduces disclosure is through the status of "emerging growth company."  Most notably, an emerging growth company is defined as an entity with less than $1 billion in annual revenue.  By falling within this broad definition, a startup may take advantage of reduced disclosure requirements for up to five years.
Based on this $1 billion threshold, the definition of emerging growth company is broad enough to encompass companies either experiencing an accelerated growth rate or with high-growth potential.  Unfortunately, Fantex also falls within this broad definition of emerging growth company, as noted in its prospectus.  Therefore, the real question is whether the definition is too broad so that companies with little, or no, demonstrated growth are being granted the same access to the investing public as companies that are actually growing.
Because Fantex falls within the definition of emerging growth company, the company is permitted full access to the investing public.  At the same time, Fantex is able to maintain a greater veil of secrecy than other public companies.  For example, the company is only required to have two, rather than three, years of audited financial statements.  Fantex is exempted from the requirement that auditors certify the effectiveness of its internal controls for financial reporting — a requirement imposed under section 404 of the Sarbanes-Oxley Act.  The company also enjoys an extended transition period for complying with new, or revised, accounting standards, in addition to reduced disclosure about the company's executive compensation arrangement.  Relief from these requirements not only reduces a startup's transactional costs, but also serves to prevent later claims that the company's financial disclosures misled investors.
If a company falls within the broad definition of emerging growth company, it is not likely that the same company will lose this status before the five-year relief period ends.  The status of emerging growth company only ends once a company either (1) achieves more than $1 billion in annual revenues; (2) has more than $700 million in capital stock held by non-affiliates; or (3) issues more than $1 billion of non-convertible debt over a three-year period.  Most startups will never reach these benchmarks and, thus, will typically remain shielded for the full five-year period.
Not all emerging growth companies pose a threat to the investing public, though.  In September, Twitter used its qualification as an emerging growth company to file a confidential registration statement with the SEC.  Its less-than-public filing, while criticized by some financial analysts, was a strategic move intended to protect the vulnerability of its IPO while it ensured that the necessary interest from investors existed.  To date, the Twitter IPO has avoided any major gaffes and is largely regarded as a success by analysts.
By easing the burden of disclosure, a company like Twitter can expedite the process of raising the capital necessary for expanding.  Furthermore, investors (like you and me) can acquire shares in a dynamic startup at the onset of an offering, rather than after its shares are acquired by the most elite investors and financial institutions.  But should a company like Fantex — with its minimal operating history and lack of profitability — have access to the general public in the same manner as a company with the growth-potential of, say, Twitter?
On one hand, a broad definition of emerging growth company allows a wide range of companies to take advantage of the reduced disclosure requirements.  There is no doubt that helping innovative startups grow and thrive is important to the overall success of the economy.  On the other hand, such a broad definition also permits companies like Fantex to emerge from the netherworld of startups — where fledgling companies crave nothing less than unfettered access to the investing public, particularly first-time and elderly investors.  Fantex is evidence that the flexibility provided by an overly broad definition of emerging growth company increases the potential for less than prudent offerings from certain startups.  These offerings in turn increase the vulnerability of many, often unsophisticated, investors.