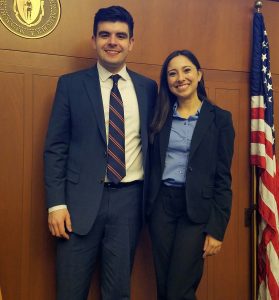 After three rounds of oral argument at the National Appellate Advocacy Competition (NAAC) regional in Boston this past weekend, Marquette University Law School students Tamara Johnson (3L) and Henry Twomey (3L) (pictured) were 2-1 and seeded ninth out of 32 teams. Johnson and Twomey advanced to the octofinals, but unfortunately lost a close match to another team. Attorneys (and former NAAC competitors) Lucas Bennewitz (L'15), Hiriam Bradley (L'16), Jesse Blocher (L'06), Michael Cerjack (L'08) coached the team.
Barry Braatz (3L), Alexandra Klimko (3L), and Brianna Meyer (3L) also competed in the Boston regional, facing tough competition each round. Their team was coached by attorneys Elleny Christopolous and Kate Maternowski, both of whom were former NAAC competitors for their law schools, and Zach Willenbrink (L'11). Professor Lisa Mazzie is the faculty advisor for both teams.
The NAAC is sponsored by the American Bar Association Law Student Division.