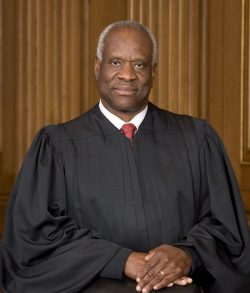 Last spring in Washington, D.C. at the Federalist Society's National Student Symposium, Justice Thomas told a room full of law students to "get rid of [their] pessimism." Justice Thomas, your words have been ringing in my ears. Admittedly, many aspects of America's contemporary legal and political landscape engender a lingering pessimism in me. I'd like to step back a moment from this divisive arena we encounter every day and briefly discuss a few points of optimism.
My optimism feeds on the daily sight of passion and enthusiasm coming from my fellow students and my professors. I love seeing students of opposing viewpoints show up to Federalist Society or American Constitution Society events. I love hearing about the valuable work my fellow students are doing in a staggering array of pro bono and internship opportunities. I admire the law school's emphasis on providing services to society's most vulnerable individuals and communities. I cannot count the endless ways I've seen our professors tirelessly dedicate themselves to our development and guide us as we make progress. Sincerity in the study and teaching of law at Marquette fuels my optimism.
Also, supervised fieldwork experiences drive my optimism. Working with talented and ethical members of the legal community gives me hope for the future of the profession and the direction of our state.
My faith is yet another source of optimism. My faith brought me to law school, and I am proud to study at an institution grounded in faith. This foundation of faith is a priceless asset for me. My faith helps me navigate the academic, professional, and personal challenges of law school.
Lastly, my brother helps keep me optimistic. I love the fact that we get to go through law school together. I enjoy our classes together and our heated post-class discussions. I am optimistic that these brotherly legal discussions will continue for many years.
Where does your optimism come from? Are there people in the legal community that inspire optimism in you and assuage your pessimism? Is pessimism useful to lawyers in any manner? Justice Thomas, I promise to keep working on my pessimism.