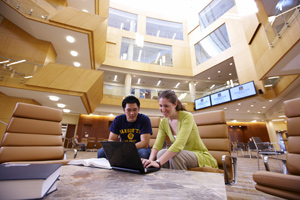 Wireless Access
The law library and law school offer wireless Internet access throughout Eckstein Hall for Marquette University faculty, students, and staff. To access MU Wireless your personal laptop must have a wireless network card that is properly configured. Wireless network cards are also available for checkout from the circulation desk.
Accessing subscription databases from home
Virtual Private Network, VPN, allows MU faculty and students to access library databases and campus-restricted websites from home. Faculty and students may download the software from the "campus downloads" section of CheckMarq.
Laptop Checkout
A limited number of laptops, both pc and mac, are available for loan to law students.
Laptop Locks
A limited number of laptop locks are available for loan to law students.
Ethernet Cables
For those who have not configured their laptops for wireless or those outside the Marquette community, ethernet cables are available for check out at the circulation desk.