What it means to be a Marquette lawyer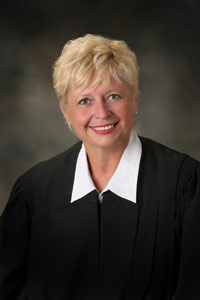 Distinguished Professor of Law, Janine P. Geske
Carrying on the tradition of writing directly to law alumni, Distinguished Professor of Law, Janine P. Geske has written a "white paper" on "What it means to be a Marquette lawyer." The "Marquette Lawyer" white paper was mailed in January 2003 to all law alumni.
January 2003
Dear Marquette Alumni,
As I interact with my fellow faculty, students and alumni as the interim dean, I am continually reminded of Dean Howard Eisenberg's passion and dedication to this Law School. I am proud to be associated with Marquette University Law School. Over the span of six years, Dean Eisenberg dramatically impacted this School in so many ways. His efforts gained substantial financial independence from the University that has enabled the Law School to double its faculty positions, bring faculty salaries to competitive levels, renovate the physical facility, and offer competitive scholarships to recruit even more talented students.
In the process, Howard did much to enhance the reputation and prestige of the Law School. Howard particularly reached out to our own alumni, acting on a genuine desire to connect with them. He created an open, frank dialogue by sending regular, informative mailings and hosting events such as the popular "Breakfast with the Dean."
Dean Eisenberg was motivated by his own personal commitment to the Jesuit mission of this University and its Law School. This commitment is among his many legacies. I accepted the interim deanship so I could help continue that legacy for the 2002-2003 academic year.
As I parallel Dean Eisenberg's footsteps and carry on the tradition of "the white paper" he established, I want to tell you that this institution continues to strive for excellence in educating future lawyers.
In one of his own white papers, Dean Eisenberg once described the value of this commitment at Marquette University Law School:
[T]he most important part of my vision for this law school is [for it to be] an institution, which practices what St. Ignatius of Loyola, preached. This means we are passionately committed to rigorous education, which prepares our graduates to be outstanding lawyers and outstanding leaders who will be agents for positive change in our communities. Law school must not only teach substantive law and lawyering skills; it must instill in our graduates the importance of faith, values and morality. We must treat each other with respect. Faculty must treat students with respect. Students must respect one another, and graduates of this Law School must serve as examples for the very best in our profession.
I would be hard-pressed to better describe the mission of Marquette University Law School. Service to others is inherent in the vocation of lawyers, despite cynical stereotypes of the legal profession. Because of our Law School's Jesuit focus on care of the person, we are committed to shaping the social and moral well being of our students as well as developing their intellect. We want our graduates to be particularly open to the call to serve, particularly those who are poor or disenfranchised.
Former Dean Robert Boden said it well:
There are well-recognized characteristics, which distinguish the Marquette Lawyer. They can be observed in the offices and courtrooms everywhere the law's work is done by graduates of this [L]aw [S]chool. These characteristics include solid grounding in the fundamentals of legal analysis and doctrine, an understanding of procedure and the means of accomplishing legal objectives legally, an appreciation for the philosophical and jurisprudential values underlying the law, a strong sense of professional responsibility and a pervading commitment to the service of fellow human beings in a useful professional context. This is what we mean by the Marquette Lawyer.
In addition to professional service as a Marquette Lawyer, many of you have answered the call to serve your Law School. Perhaps you are among the many Law School alumni who return to campus to serve as adjunct faculty members and mentors and to share legal expertise as guest lecturers. Some of you provide critical input to the Law School as members of the Law Alumni Board, Law Advisory Board and Law Advisory Board — Executive Committee. Some serve on a reunion committee. Equally important, many of you give financial support, which is extremely important if we are to attract high-quality students and faculty.
I also realize that many of you pursue careers outside the active practice of law. I know that your legal background and ethical training serve you well as you work in government, business and non-profit sectors. Maintaining an ethical posture within these realms equally demonstrates the importance of character that is indicative of the Marquette Lawyer.
Wherever your career path has taken you, I ask you to seriously think about what being a Marquette Lawyer means to you personally. I know you are doing good deeds in "service of others." I know that you do not do this work in order to receive public thanks for your actions, but please share a short example with me that I can share in a positive way with other alumni and our current students. I invite and welcome your thoughts regarding "What it means to be a Marquette Lawyer" and any other aspect about your Law School. You can call me at (414) 288-7877 or email me at janine.geske@marquette.edu.
The next dean will be selected soon and it will be his/her job to carry on and expand on our Law School tradition of doing good and doing well. Thank you and my best wishes to you for a joyous New Year.
Sincerely,
Janine P. Geske
Distinguished Professor of Law