Emerging Legal Issues in Professional Sports (Conference Materials 2018)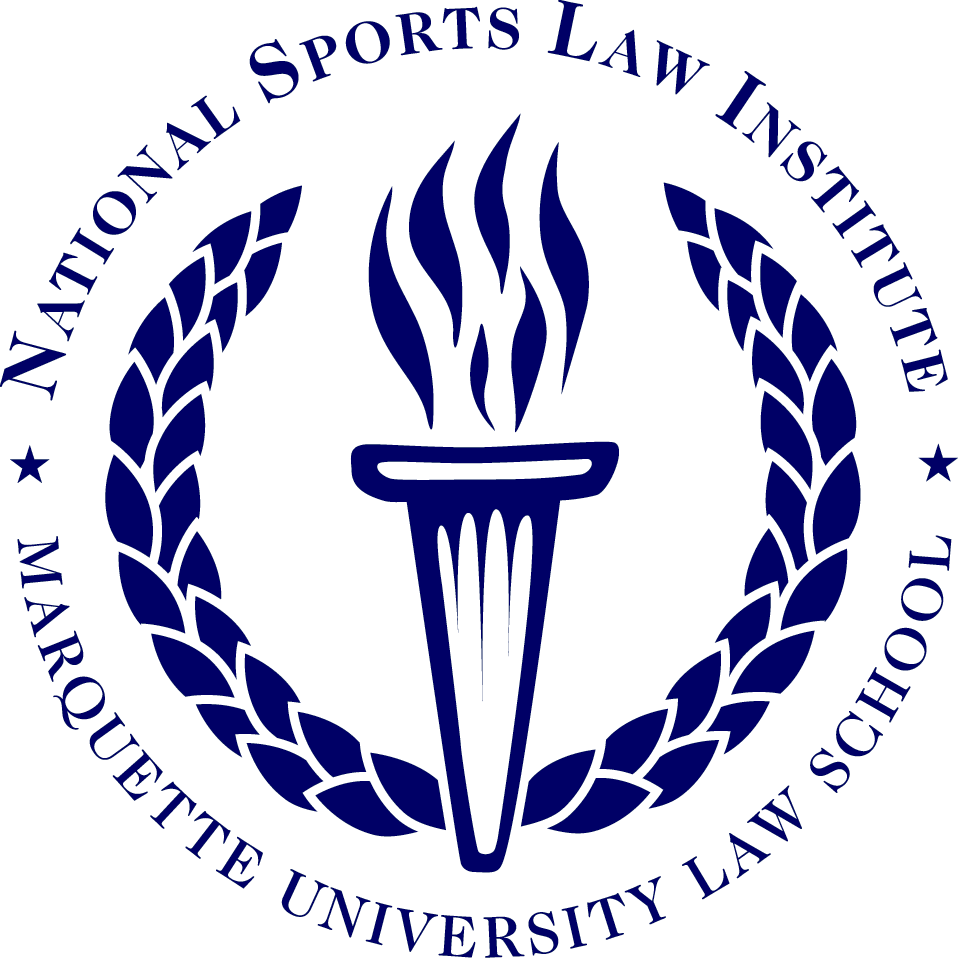 Emerging Legal Issues in Professional Sports
(Return to Conference Materails Mainpage)
Moderator:


Meghan Pirics (L'16), Legal Associate, Milwaukee Brewers Baseball Club, Milwaukee, Wisconsin
Panelists:


Brooke A. Beyer, Jr., Senior Assistant General Counsel – Sponsorship & Licensing, NASCAR, Inc., Charlotte, North Carolina, and member, NSLI Board of Advisors
Greg Heller (L'96), Executive Vice President and Chief Legal Officer, Atlanta Braves, Atlanta, Georgia, and member, NSLI Board of Advisors
Nona M. Lee, Senior Vice President and Chief Legal Officer, Arizona Diamondbacks, Phoenix, Arizona, and member, NSLI Board of Advisors
Mike Sneathern (L'02), Vice President, Legal Affairs, Milwaukee Bucks, Milwaukee, Wisconsin, and member, NSLI Board of Advisors
Nyea Sturman (L'03), General Counsel, Orlando Magic, Orlando, Florida, and member, NSLI Board of Advisors
Emerging Legal Issues in Professional Sports
QUESTION: After the Supreme Court's decision in May, individual states may now opt to legalize sports betting. As of today, none of the states in which your professional teams reside have passed or are considering passing legislation to legalize sports betting, however, some of you have affiliate teams in states where it is legal. Given all of that, how do you see this decision affecting professional sports, and specifically as it relates to your employees, teams, affiliate teams, and the leagues in which you operate?
QUESTION: As of late, it seems that athletes, and even those working in sports, are criticized just as much for their actions off their respective fields of play than for those on the field, if not more. How do you handle player discipline in these instances, especially when these actions are not governed by any kind of agreement (Collective Bargaining Agreement, Uniform Player Contract, etc.)?
QUESTION: In the wake of the Me Too movement, we've seen a growing emphasis on educating employees about delicate issues such as sexual harassment, gender equality, and diversity and inclusion. What are your respective organizations doing to educate employees on these topics? Are similar programs in place for your athletes?
QUESTION: Safety is always a concern when it comes to sports, but usually in the context of athlete safety during competition; however, we all know safety is a multi-faceted issue when operating a professional sports organization. Greg and Mike, both of your teams recently built new facilities, and MLB has mandated that all teams in the league begin the process of applying for designation and/or certification under the Support Anti-Terrorism by Fostering Effective Technologies Act (SAFETY Act). In your roles, what are your primary concerns when it comes to stadium/arena safety, and what are you doing to ensure you have the safest facility possible?
QUESTION: When it comes to athlete advocacy, there are those who believe that athletes should "be quiet and play their sport," and those who believe athletes should use their platform to effect positive change. Despite the potential for facing criticism, it is becoming more apparent that athletes are actively choosing to take on the role of advocate in their communities. In light of that, what opportunities, if any, do your respective organizations provide its athletes to address issues that are important to them? Second, what community outreach initiatives exist within your organizations to integrate athletes into their surrounding communities?
SUPPLEMENTARY RESOURCES FOR LEGAL ISSUES IN PROFESSIONAL SPORTS
Statutory Law
Case Law
Industry documents
Legal Periodicals
A. David Austill, When it Hits the Fan: Will There be Liability for the Broken Bat?, 24 Marq. Sports L. Rev. 83 (2013). 
Adam Harris Kurland, The Prosecution of Michael Vick: Of Dogfighting, Depravity, Dual Sovereignty, and "A Clockwork Orange", 21 Marq. Sports L. Rev. 465 (2011).
Amy E. Worden, Gaining Entry: The New O and P Categories for Nonimmigrant Alien Athletes, 9 Marq. Sports L.J. 467 (1999).
Andrew F. Gann, Jr., The Limitation of Labor Preemption: Survivability of Contract Rights During Employer Lockouts, 27 Marq. Sports L. Rev. 397 (2017).
Ante Z. Udovicic, Special Report: Sports and Gambling a Good Mix? I Wouldn't Bet on It., 8 Marq. Sports L.J. 401 (1998).
Brent D. Showalter, Technical Foul: David Stern's Excessive Use of Rule-Making Authority, 18 Marq. Sports L. Rev. 205 (2007).
Carole C. Berry, Taxation of U.S. Athletes Playing in Foreign Countries, 13 Marq. Sports L. Rev. 1 (2002).
Casey Shilts, Kate Jett, & Brett Lashbrook, Major League Internationals with Minor-League Titles: Let Them In, Let Them Play., 17 Marq. Sports L. Rev. 70 (2006).
Christopher J. McKinney, Professional Sports Leagues and the First Amendment: A Closed Marketplace, 13 Marq. Sports L. Rev. 223 (2003).
Courtney D. Hall, Fishing for All-Stars in a Time of Global Free Agency: Understanding FIFA Eligibility Rules and the Impact on the U.S. Men's National Team, 23 Marq. Sports L. Rev. 191 (2012).
Harley J. Goldstein, On-line Gambling: Down to the Wire?, 8 Marq. Sports L.J. 1 (1997).
James B. Perrine, Media Leagues: Australia Suggests New Professional Sports Leagues for the Twenty-First Century, 12 Marq. Sports L. Rev. 703 (2002).
Jan Stiglitz, Player Discipline in Team Sports, 5 Marq. Sports L.J. 167 (1995).
Jeffrey Roeske, Doubling Down on Sports Gambling: Why PASPA Would Fail a Constitutional Challenge, 24 Marq. Sports L. Rev. 463 (2014).
Jo-Annie Charbonneau, A Comparative Analysis of American and Candian Antitrust and Labor Laws as Applied to Professional Sports League Lockouts and Potential Solutions to Prevent Their Occurrence, 26 Marq. Sports L. Rev. 111 (2015).
Joshua E. Kastenburg, A Three Dimentional Model of Stadium Owner Liability in Spectator Injuyr Cases, 7 Marq. Sports L.J. 187 (1996).
Karen Martin Dean, Can the NBA Punish Dennis Rodman? An Analysis of First Amendment Rights in Professional Basketball, 23 Vt. L. Rev. 157 (1998).
Keiji Kawai & Matt Nichol, Labor in Nippon Professional Baseball and the Future of Player Transfers to Major League Baseball, 25 Marq. Sports L. Rev. 491 (2015).
Kelly B. Koenig, Mahmoud Abdul-Rauf's Suspension for Refusing to Stand for the National Anthem: A "Free Throw" for the NBA and Denver Nuggets, or a "Slam Dunk" Violation of Abdul-Rauf's Title VII Rights?, 76 Wash. U.L.Q. 377 (1998).
Lewis Kurlantzick, John Rocker and Employee Discipline for Speech, 11 Marq. Sports L. Rev. 185 (2001).
Lisa A. Mazzie, Michael Sam and the NFL Locker Room: How Masculinities Theory Explains the Way We View Gay Athletes, 25 Marq. Sports L. Rev. 129 (2014).
Mathieu Fournier & Dominic Roux, Labor Relations in the National Hockey League: A Model of Transnational Collective Bargaining, 20 Marq. Sports L. Rev. 147 (2009).
Matthew J. Ludden, Take Me Out to the Ball Game . . . but Bring a Helmet: Reforming the "Baseball Rule" in Light of Recent Fan Injuries at Baseball Stadiums, 24 Marq. Sports L. Rev. 123 (2013).
Michael J. Redding & Daniel R. Peterson, Third and Long: The Issues Facing the NFL Collective Bargaining Agreement Negotiations and the Effects of an Uncapped Year, 20 Marq. Sports L. Rev. 95 (2009).
Michael Straubel, The International Convention Against Doping in Sport: Is It the Missing Link to USADA Being a State Actor and WADC Coverage of U.S. Pro Athletes?, 19 Marq. Sports L. Rev. 63 (2008).
Michelle Hertz, The National Basketball Association and the National Basketball Players Association Opt to Cap Off the 1988 Collective Bargaining Agreement with a Full Court Press: In Re Chris Dudley, 5 Marq. Sports L.J. 251 (1995).
Nicholas Burkart & Dylan Welsh, The Legalization of Sports Gambling: An Irreparable Harm or the Beginning of Unprecedented Growth?, 21 Sports L. J. 145 (2014).
Paul M. Anderson, Racism in Sports: A Question of Ethics, 6 Marq. Sports L.J. 357 (1996).
Phoebe Weaver Williams, Performing in a Racially Hostile Environment, 6 Marq. Sports L.J. 287 (1996).
Robert H. Lattinville, Robert A. Boland, & Bennett Speyer, Labor Pains: The Effect of a Work Stoppage in the NFL on its Coaches, 20 Marq. Sports L. Rev. 335 (2010).
Roger I. Abrams, Off His Rocker: Sports Discipline and Labor Arbitration, 11 Marq. Sports L. Rev. 167 (2001).
Samuel L. Gurney, Without Thanks to Richie Incognito: Should Employers Owe a Duty to Employees to Protect Against Psychological Harm from Status-Blind Bullying in the Workplace?, 26 Marq. Sports L. Rev. 37 (2015).
Sean P. McCarthy, Bending the Rules to Change the Rule? Was the National Football League's Domestic Violence Policy Collectively Bargained For?, 26 Marq. Sports L. Rev. 245 (2015).
Steven J. Swenson, Unsportsmanlike Conduct: The Dut Placed on Stadium Owners to Protect Against Fan Violence, 23 Marq. Sports L. Rev. 135 (2012).
Steven J. Swenson, Unsportsmanlike Conduct: The Duty Placed on Stadium Owners to Protect Against Fan Violence, 23 Marq. Sports L. Rev. 135 (2012). 
Thomas H. Sawyer, Private Golf Clubs: Freedom of Expression and the Right to Privacy, 3 Marq. Sports L.J. 187 (1993).
Walter T. Champion Jr. & I. Nelson Rose, Daily Fantasy Sports and the Presidential Debate, 27 Marq. Sports L. Rev. 301 (2017).