Welcome from Marquette Law School's Student Bar Association President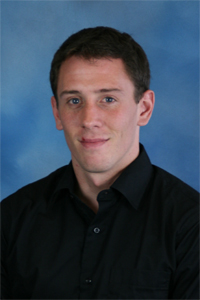 Dear Admitted Student,
Welcome to Marquette University Law School! As President of the Marquette University Student Bar Association, our student government, a member of the Law School's Moot Court General Board, and the Law School's American Association for Justice Mock Trial Team, I am honored and proud to welcome you to Marquette.
As a first-year law student at Marquette, you will have many opportunities to work with your classmates. Over the years, Marquette student leaders have formed over forty different student organizations. From service groups like the Public Interest Law Society and the Association for Women in Law to organizations that focus on specific practice areas and legal interests, such as theInternational Law Society or the Business Law Society, you will have many options to choose from. Many other organizations, such as the Student Bar Association, are also eager for input and participation from new members. The Student Organizations web page is a great place to explore the many groups that will be available for you to join when you are at Marquette.
The Law School also offers many opportunities to volunteer at various legal clinics. With outreach programs like the Volunteer Income Tax Assistance Program, the Marquette Legal Initiative for Nonprofit Corporations, the Foreclosure Mediation Program, and numerous others, you can network with area attorneys, help serve your community, and enhance your practical legal skills in almost any area of law.
You may choose to join a law journal in your second year to improve your editing and writing skills. We have four law reviews at Marquette: Marquette Law Review, Marquette Sports Law Review, Marquette University Law School Elder's Advisor, and Marquette Intellectual Property Law Review.
Additionally, you will have the opportunity to represent Marquette University Law School by competing in national and international Moot Court Competitions. The Law School recently implemented the Moot Court program in which second and third-year students take the Appellate Writing and Advocacy Course in order to complete in the intramural Jenkins Moot Court Competition and in national Moot Court competitions. Further, as a first-year student, you will have the opportunity to participate in Client Skills Board competitions, which allow students to participate in intramural, national, and even international competitions while practicing dispute resolution skills, such as negotiation and mediation.
The Law School recently announced two new certificate programs, in dispute resolution and in litigation, in addition to the already established sports law certificate. By completing approved coursework and experiential opportunities, a student may earn a certificate, in addition to the diploma, recognizing these specializations.
I also invite you to tap into our brilliant group of faculty members during your time here. The distinguished faculty members at Marquette Law School include several criminal law experts who have served as prosecutors and public defenders, professors who assist in drafting legislation, authors of both legal and non-legal publications, a former FTC attorney, the former managing partner of Foley and Lardner, the Commissioner of Major League Baseball, a former Wisconsin Supreme Court Justice, a former law clerk to Justice Antonin Scalia, and a multitude of other talented full-time and adjunct professors. Marquette's open door policy allows every student to speak with professors, including Dean Kearney, when they have questions or concerns, either by appointment or merely when the professors are in their offices.
Faculty members are known to participate in student organization meetings and events. For example, many professors and administrators compete against law students in the annual Student/Faculty Basketball Game during the spring semester. One year, in front of a crowd of cheering students, Dean Kearney put everyone to shame with his "nothing-but-net" half-court shot at halftime. Make sure to attend these exciting events-you never know what might happen!
As a Marquette law student, you will be involved in one of the most exciting times in Law School history. As you know, Eckstein Hall became the new home of Marquette Law School in the fall of 2010. This new building was designed with student input. From underground parking and the Tory Hill Café, which offers a variety of choices for breakfast, lunch and dinner, to the state-of-the-art "library without borders," Eckstein Hall is a facility that meets law students' needs in and out of the classroom. With so many more resources available, the new building offers a host of new opportunities and possibilities for you to take part in. The open and inviting atmosphere of the building, as one can see so clearly in the Zilber Forum, promotes and strengthens the sense of community among faculty, staff, alumni, and students, something I hope you will take part in.
While you may spend countless hours in the Aitken Reading Room studying with your classmates, make sure you enjoy everything Marquette University Law School, Marquette University, and Milwaukee have to offer. Join your classmates to watch an exciting Marquette men's basketball game or in the Appellate Courtroom to listen to Mike Gousha, Distinguished Fellow in Law and Public Policy, moderate a debate between prominent Wisconsin politicians before an important election. Rejuvenate your body by attending a workout class in the Law School's fitness facility or explore Marquette University's beautiful campus, including Raynor Memorial Libraries, Haggerty Museum of Art with extensive archives and exhibits, and Varsity Theater with inexpensive cinema and concerts. After class or on the weekends, spend time walking around Milwaukee's downtown and lakefront, where you will find great restaurants, stores, festivals, and museums, including a nationally renowned art museum. On a nice fall afternoon, you could even take your books outside and study at Bradford Beach or Veteran's Park. I urge you to visit campus and explore Milwaukee for yourself.
Beginning your first day of orientation, I invite you to become an active member of the Law School community and I encourage you to make the most of your law school experience. When you graduate, after your time at Marquette University Law School, I believe you will feel fortunate and proud to carry on the tradition of calling yourself a Marquette lawyer. Congratulations again.
Sincerely,
Robert Batey, L '12
President, Student Bar Association