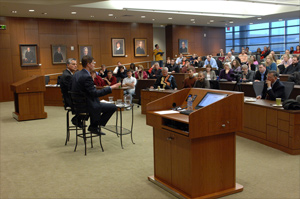 The Media and Technology Group works closely with both internal and external parties when planning an event. All parties need to coordinate their event with the event planning team at Marquette University Law School. Technology services can be provided to all parties, and some services may incur additional fees.
All requests for media assistance or support must be met within the office hours.
Regular Hours
Monday - Thursday 7:30 a.m. - 7:00 p.m.
Friday: 8:00 a.m. - 5:00 p.m.
Saturday - Sunday: 9:00 a.m. - 4:00 p.m.
(414) 288-8000
mulawtech@marquette.edu
Ray & Kay Eckstein Hall, Suite 218
All support requests must be made at least 48 hours in advance via email.  All requests for any equipment or assistance outside of media department hours (including weekends and holidays) must be made at least 7 days in advance of the event.
We will attempt to accommodate all requests but the Media and Technology Group reserves the right to deny any request made outside of the above time frames. Technology event planning and testing are ordinarily scheduled 30 minutes to 60 minutes prior to the start of the event, but may be affected by room or personnel availability. All equipment and schedule times are allocated on a first-come, first-serve basis. To ensure equipment and staff availability, all requests should be made as early as possible.
Please be advised that we are not responsible for problems occurring due to last minute requests or requests made in a manner other than as indicated above. All requests received before noon on Friday will be confirmed within 72 hours. Requests after noon on Friday will be confirmed on the following Monday.