Posted by: James Mumm
Category: Marquette Law School, Public
2 Comments »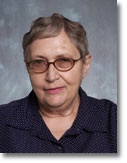 Sometimes we don't always see the beauty of an individual rose, but I would like to take a moment to focus a little bit about a very beautiful rose, Connie Johnson, who graced the Marquette University Law School for over 33 years.  Connie passed away on Friday, October 12 at the age of 82 years.
Connie was a loose-leaf filer for all the time that I worked with her.  Not only did she keep the loose-leaf materials in good order, but she did so in the best possible way she could.  Additionally, she developed a means for filing recently released Wisconsin Senate and Assembly materials that the library received, and she developed the process for maintaining the replaced pages for the Wisconsin Administrative Code.
She worked with many students and staff, explaining the intricacies of loose-leaf filing and advocating for the disabled in the law library.  Among her accomplishments, she authored the book, Filer's Guide for Loose-Leaf Services in a Law Library (Z 675 .L2 J65 1979).
While some may have viewed Connie as having a gruff exterior, much of that was due to her disabilities, which she neither hid nor flaunted.  She was outspoken when it came to care for people who had disabilities, and was quick to explain the practical nature of helping people.
She taught me little things, such as listening to what a disabled person needs before assuming to know how to help, or being willing to offer help with tightening someone's metal cane if it is loose.
Connie lived on the Marquette campus almost the entire time that I knew her.  If she was not in the law school, she could frequently be seen walking with her walker around the campus.  Anyone who knew her knew that she was a fixture at Marquette.  She loved Marquette and she loved the students, faculty and staff with whom she worked.  During the last few years of her life she was confined to a skilled nursing facility, but still she made it to the Law School for our most recent Christmas dinner, a wonderful memory.
More important, though, Connie knew her Lord and Savior, Jesus Christ, who gave His life for her so that she could have the certain hope of being with Him in heaven.
In very many ways, we, the Law School and the University were her family, and she will be missed by very many people.

You can follow any responses to this entry through the RSS 2.0 feed. You can skip to the end and leave a response. Pinging is currently not allowed.