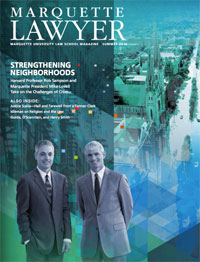 Pair up the wisdom of a leading national expert on understanding urban neighborhoods with an effort to increase the vitality of a large section of Milwaukee's west side and what do you have? You have the cover package of the Summer 2016 issue of Marquette Lawyer magazine.
Professor Robert J. Sampson, the Henry J. Ford II Professor of Social Sciences at Harvard University, delivered the Robert F. Boden Lecture at Marquette Law School in September 2015, drawing on his work in Chicago and Boston examining the fabric of urban neighborhoods. "Neighborhood Inequality and Public Policy: What Can Milwaukee Learn from Chicago and Boston?" offers an essay version of Sampson's lecture, along with reactions from several Milwaukee leaders.
A partner piece describes efforts by Marquette University and other major institutions to improve housing, business and commercial life, safety, and community amenities in near west side areas of Milwaukee—generally between the Marquette campus and the Harley-Davidson offices and factory a couple miles to the northwest. "Writing a New West Side Story" describes the ambitious undertaking under the leadership of Marquette's President Michael R. Lovell.  The piece concludes with a comment by Provost Daniel J. Myers.
The cover package also includes a reflection by Mike Gousha, distinguished fellow in law and public policy, on the Law School's public policy initiative, which aims to increase dialogue about major issues and shed light on subjects such as what can help urban neighborhoods. The dean's column at the beginning of the magazine also speaks to Milwaukee, urban America, and the Law School's interest in these matters.  Read more »