2020 Jenkins Honors Intramural Moot Court Competition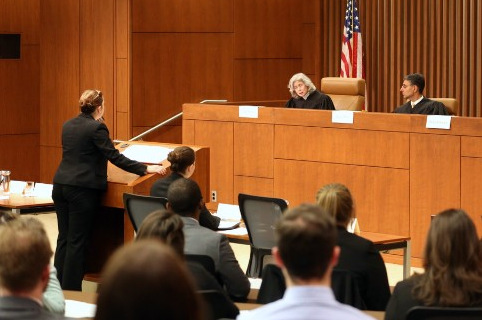 A student competes in the final round of the Jenkins Honors Intramural Moot Court Competition
The Jenkins Honors Moot Court Competition is the appellate moot court competition for Marquette law students and is the capstone event of the intramural moot court program. Students are invited to participate based on their top perfor mance in the fall Appellate Writing and Advocacy course at the Law School.
The Jenkins preliminary rounds begin in March 2020, with the winning teams progressing through the quarterfinals, then semifinals, to the finals. All rounds are open to the public. Stay tuned for more information.
Congratulations to all of the participants of the upcoming 2020 Jenkins Honors Intramural Moot Court Competition:
Adam Best
William Brookley
John Fuller
Kaitlyn Gradecki
Xavier Jenkins
Naomie Kipulu
Michelle Knapp
Nicholas Lubenow
Colleen Mandell
Jay McDivitt
Aleina McGettrick
Wynetta McIntosh
Marilyn McQuade
Tori Nanstad
Kelsey Pelegrin
Jessica Puetz
Annalisa Pusick
Mathias Rekowski
Kelley Roach
Ashley Rossman
Adam Roznowski
Lucas Schaetzel
Natalie Sobierajski
Foley Van Lieshout
Haley Wentz
Please email Micaela Haggenjos, Associate Justice of Jenkins, with any questions or comments about the 2020 Jenkins Competition.