2022 Jenkins Honors Intramural Moot Court Competition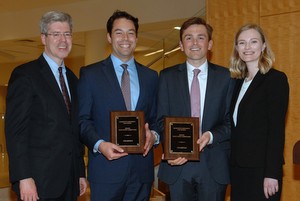 JP Curran and Matthew Kass, Winners of the 2022 Jenkins Honors Intramural Moot Court Competition
The Jenkins Honors Moot Court Competition is the appellate moot court competition for Marquette law students and is the capstone intramural event of the moot court program. Students are invited to participate based on their top performance in the fall Appellate Writing and Advocacy course at the Law School.
The Jenkins preliminary rounds were held on March 26-27, 2022, with the winning teams progressing through the quarterfinals, then semifinals, to the final round. The quarterfinals and the semifinals were held on Sunday, April 3rd.
The final round was held on Tuesday, April 5th at 6:00pm. We thank the following distinguished jurists who judged the final round:
Hon. Michael B. Brennan, Judge, U.S. Court of Appeals for the Seventh Circuit
Hon. Thomas M. Hruz, L'02, Judge, Wisconsin Court of Appeals
Hon. Mary E. Triggiano, Chief Judge, Milwaukee County Circuit Court
Congratulations to JP Curran and Matthew Kass, Winners of the 2022 Jenkins Honors Moot Court Competition and to Fefe Jaber and Nicole Jennings, Finalists.
Congratulations to the following students who were selected to the 2022 Jenkins Honors Moot Court Competition:
Jake Apostolu
Tristan Bednarek
James Carpenter
Hunter Cone
John Curran
Ilana Friedman
Travis Goeden
Anne Gonring
Bailey Groh Rasmussen
Alesha Guenther
Nolan Heck
Munifeh Jaber
Nicole Jennings
Samantha Jozwiak
Kyle Kasper
Matthew Kass
Abigail Kincheloe
Ruth Nord-Pekar
Robyn Shepard
Ronald Tenuta
Aimeé Treviño
Rose Vanelderen
Meghan Wallace
Emily Ward
Austin Wesner
Jessica Zimpfer
Please email Fefe Jaber, or Travis Goeden, Associate Justices of Intramural Competitions, with any questions regarding the competition.