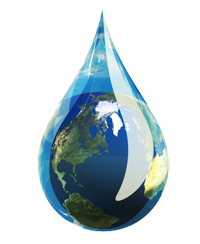 Marquette University Law School launched a new curriculum in water law in the fall of 2009. In 2015, the Law School launched an expanded Water Law and Policy Initiative which will seek to establish the Law School and, more broadly, Marquette University as a center for study, exploration, discussion, and education concerning water issues. The curriculum and the Initiative provide concrete evidence of the Law School's commitment to solidifying Milwaukee as a global leader in water research and policy and provide a context to address the ongoing and emerging legal issues posed by the water industry.
The Law School water law curriculum includes a course specializing in the legal principles involved in securing, allocating, transferring, managing and adjudicating water rights for public and private uses. Another innovative course combines aspects of water law, water technology and business, and intellectual property. The curriculum also includes courses on administrative law, patent and trade secret law, environmental policy and philosophy, land use planning, and natural resources law, among others.
Industry leaders have lavished praise on the water law curriculum. "To truly lead, the Milwaukee region has to have the talent and expertise in all areas of water, including the legal aspect of water issues, which will keep growing in significance," said Rich Meeusen, chairman/president/CEO of Badger Meter and co-chair of the Water Council. Meeusen added, "Marquette Law School's curriculum is another vital addition to an already solid program that positions the Milwaukee region as the world water hub."
"This is another fine example of industry-university collaboration that will prepare students to become leaders with the specialized expertise necessary to make this region the leader in the water industry," said Paul Jones, chairman/CEO of A.O. Smith and co-chair of the Milwaukee 7 Water Council. Jones stated, "Marquette Law School has stepped in and filled a real need as we assemble all the parts needed to make the Milwaukee region the world water hub for freshwater research, economic development, education and, in the future, law."
Faculty
Full-Time Faculty:
Professor David Strifling, Director, Water Law and Policy Initiative
Professor Alex Lemann
Adjunct Faculty:
Professor Michael Morse
Curriculum and Courses
Course descriptions can be found in the online Law School Bulletin.
Please note that not every course is taught each year.
Student Organizations and Activities
Environmental Law Society - The Environmental Law Society seeks to promote environmental activism in the Marquette Law School community by providing information on current environmental issues and cultivating relationships with environmental professionals in the greater Milwaukee area.
Registered Student Organizations contribute to the vibrant student community at Marquette University Law School. Scroll through our list of organizations to find the one that suits you best and if you are a current student, you can click on the links to get contact information.