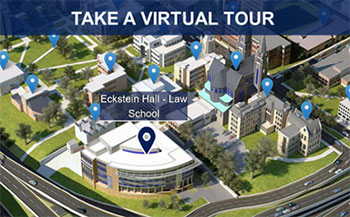 Welcome. Get to know us. We're a Jesuit law school. Envision yourself succeeding. Learn more about our curriculum. Look at practical training through experiential learning. Plan your career. Take a peek at our beautiful building and explore Milwaukee.
Marquette University Law School is open but operating remotely. It has paused all on-campus events, in compliance with federal, state, and local directives concerning COVID-19. This includes campus visits by prospective students.
We understand that this is an important time for our admitted students, and the Law School's Office of Admissions remains open. Through such means as phone and online appointments, we continue to be available.
Connect with Marquette Law School
Book a Virtual Appointment Take a Virtual Tour
Have a quick question? Call Admissions: 414.288.6767
Email Admissions: law.admission@marquette.edu
Quick Links
Info for Admitted Students Academic Programs
Experiential Learning Pro Bono / Public Service
Career Planning Student Affairs