Prospective Students Visit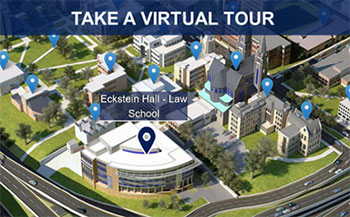 Welcome. Get to know us. We're a Jesuit law school. Envision yourself succeeding. Learn more about our curriculum. Look at practical training through experiential learning. Plan your career. Take a peek at our beautiful building and explore Milwaukee.
The Law School's Office of Admissions is open Monday - Friday for visitors. We are currently available for telephone, video, and in-person appointments. Telephone and video, and in-person appointments are available weekdays only and must be scheduled at least 3 business days in advance.
All law school visitors must have a pre-arranged appointment or have registered to attend a specific event. 
Blackout dates:  November 24 - 27; December 24 - January 2; January 16
Still in high school? Please connect with our colleagues in undergraduate admissions to explore pre-law opportunities at Marquette. 
Please review our health and safety protocols prior to scheduling your visit.
Have a quick question? Call Admissions: 414.288.6767
Email Admissions: law.admission@marquette.edu
_________________________________________________________
Upcoming On Campus Visit Events:
In Person Open House     January 28
In Person Open House     February 25
Individual Visit Opportunities:
Book an In-Person Appointment
Book a Virtual Appointment
Take our 3D Virtual Tour
Upcoming Diversity Event:
Wisconsin Statewide Pre-Law Diversity Conference and Law Fair - February 10
Events Near You: