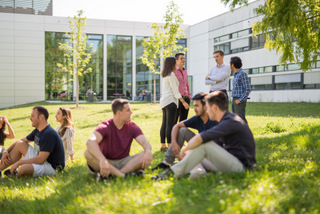 Marquette University Law School's study abroad programs provide its students with the unique opportunity to benefit from extended stays in other countries around the world where they can immerse themselves in different cultures and legal systems and learn from international faculties and classmates. In today's world, it is increasingly obvious that challenges to our nation's economy, security and natural environment are often global in nature and require global solutions. The practice of law reflects this fact as countries around the globe address these challenges in various ways: through treaties and international agreements; by creating transnational institutions; and by drafting laws that focus on the cross-border movement of goods and people.
The Law School encourages its students to spend time studying abroad through a number of programs. Law School students can enroll in the Law School's own four week long Summer Study Abroad program in Giessen, Germany, run in collaboration with the University of Wisconsin Law School and Justus Liebig University Law School in Giessen.
In addition, students may earn up to 18 credits toward their J.D. through semester long exchange programs sponsored by the Law School or by other U.S. law schools. These programs include the following:
Credits awarded by other law schools transfer only with grades of satisfactory or unsatisfactory. To earn a grade of satisfactory, a student must earn the equivalent of a C. All classes taken in programs sponsored by law schools other than Marquette must also be approved in advance by the Law School's Director of Study Abroad Programs.
Financial Aid for all study abroad programs generally is available under the same terms as financial aid for any course of study at the Law School. For further information, contact Professor Ed Fallone, Director of Study Abroad Programs.