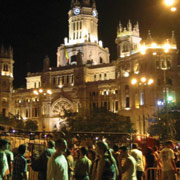 Marquette University Law School currently participates in an exchange program with the Universidad Pontificia Comillas. In an exchange program, Marquette students pay the same tuition and fees to Marquette that they would pay for a regular semester at Marquette, but are enrolled and attend classes at the foreign law school.
Founded in 1904, the Universidad Pontificia Comillas is located in Madrid, the political and cultural heart of Spain. It is regarded as one of the best universities in Europe and has a rich tradition in the humanities and teaching, backed by the recognition of the business world and public sector. It has an international environment that attracts exchange students from Europe and the rest of the world.  The university has libraries with access to more than 500,000 volumes and 2,100 journals, a bookshop, a gymnasium, university pastoral services, a social work unit, and guidance services. More information about Universidad Pontificia Comillas can be found online.
Comillas has 7,700 undergraduates, 4,300 students in special or post-graduate study and more than 1,000 foreign students. Students find a friendly atmosphere in the classroom, cafeteria and athletic activities. Students' university experiences will also be enhanced by contact with others from a variety of student associations and staff members who help organize cultural events and sport tournaments.
Marquette University undergraduates have a strong presence in Madrid, as a part of the Marquette en Madrid study abroad program.  As part of this program, Marquette University staffs and operates the Marquette University Study Center in Madrid.  Law students who participate in the Comillas exchange will be able to take advantage of all of the same resources and opportunities made available to Marquette undergrad students who participate in the Marquette en Madrid program. Learn more about the Marquette presence in Madrid.  
Students selected to participate in the exchange program will enroll in classes at the foreign law school according to procedures established by the foreign law school. In addition, students must enroll in the Law School course Law XXX Study Abroad – Comillas University. Only the Law School course will appear on the student's transcript. Students will be awarded credit only for classes approved in advance by the Law School Director of Study Abroad Programs and for which the student earns at least the equivalent of a grade of C. All credits awarded will receive a grade of Satisfactory unless the student fails to achieve a grade of C in any class, in which case the student's transcript will show that the student earned O credits for the course with a grade of Unsatisfactory. Students will be awarded credit for classes taken in exchange programs depending on the number of hours of classroom instruction required by the foreign school.
Each semester, Comillas University offers a limited selection of law courses that are taught in the English language.  Additional law courses are taught in Spanish. However, as is the case with all exchange programs, students should be flexible in choosing courses and there is no guarantee that you will be able to enroll in your first choice of courses.  Spanish language proficiency is required for this exchange.
Apply online for the Comillas exchange.  The application deadline is March 1 each year.