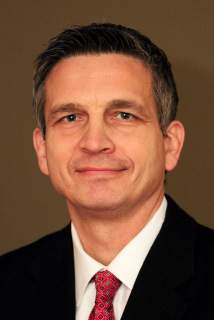 A MESSAGE FROM Honorable David L. Borowski, L'91
I am honored to serve as the President of the Marquette Law Alumni Association Board for the 2018-19 academic year. I recall that when I started my time at the Law School, in Sensenbrenner Hall, I could not imagine going to school for another three years. As it turned out, my time and study of law at Marquette flew by, and I was soon graduating. It may be a sign of age, but the 25 years since my graduation have also gone by rather quickly. One thing certainly remains the same, however, and that is my pride in being a Marquette lawyer.  In recent years, I have had dozens of Marquette law students assist and work with me at the courthouse as legal interns. Seeing the passion, intelligence, and drive of the students led to my greater involvement with the Law School. In recent years, I have spoken to students, judged mock trials, and attended a multitude of other events. I have reconnected with old friends and alumni and engaged with current students.
I would encourage my fellow alums to also take advantage of the numerous opportunities available to you, and to get involved with the Law School. Marquette Law School is a thriving, vibrant place—in one of the best law school buildings in the United States!  Please visit and browse our website. You will see ample opportunities to stay informed about current activities, learn what is new with former classmates, and continue your professional development through quality CLE programming. Take the opportunity to join us at one of our many alumni events, including the Law School Alumni Awards ceremony, an Advent or Lenten reflection, or an alumni reception before one of the Marquette men's basketball games. I invite you to join the Marquette University Law Group on LinkedIn or become a Facebook Friend of Marquette University Law School. You can also find the Law School on Twitter @mulaw.
If you have any questions about opportunities at the Law School, please contact Christine Wilczynski-Vogel at christine.wv@marquette.edu.
Sincerely,
Hon. David L. Borowski
Class of 1991
P.S. Take a minute to enjoy a stroll through Eckstein Hall.