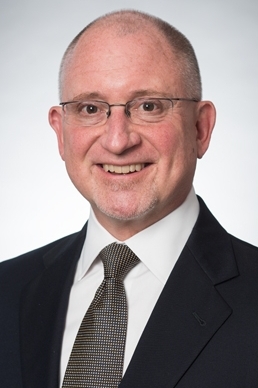 A MESSAGES FROM DAVID BOURNE, L'88
"Surprise is the greatest gift
Which life can grant us."
     -- Boris Pasternak
While recently trying to cull and organize a bedroom closet, I came upon a banker's box labeled "Law School Stuff."  Though I had pretty much forgotten about this little collection, I was not disappointed when I reviewed its contents.  Some of the highlights: My law school acceptance letter from Dean Frank DeGuire; a notice informing me that tuition rates had been set for the 1985 - 86 academic year (anyone want to hazard a guess?); and this: A hard copy of a magazine titled The Marquette Lawyer (Vol. 5:1, Fall 1987).
Leafing through its pages, I found brief profiles of the members of my class, an article about continuing legal education courses, and a list of honors conferred on faculty and students.  And then, on page 4, something that took me by surprise: A "best wishes to this year's graduates" message from Donald Levy, the President of the Marquette Law Alumni Association.
Wait a second. 
President of the Law Alumni Association?  In just a few short months, wouldn't that be  . . . me?  How could this be?  Wasn't it just yesterday that I was a young law student wrestling with the standard array of first-year anxieties: Is this what I really want to do with my life? How do I know if I'll be able to find a job when I graduate? And what about all of those student loans?
But as I sat on the floor with my box of memories and surprises, the past and present continued to collide.  I read a sentence that Attorney Levy had written some thirty-four autumns ago, but that still resonated with a sense of optimism and hope in 2021: "This class is a truly outstanding one consisting of bright, young, future lawyers who will be an asset to the legal community and a source of pride for Marquette University."
For all of us who once aspired to be "bright future lawyers," it should mean something to us that the MULS Class of 2024 will soon be here.  I hope that all of us will pause to consider our obligation to "pay it forward" to this next wave of students.  I'd like everyone who reads these words to take his or her own experience, of whatever length, and to leverage it in service to the newest generation of Marquette Lawyers (and to help them, as we're able, to allay their own set of anxieties).  I'd encourage a belief in the notion that an unbroken cord of dedication to the law connects alumni and current students.  I'd challenge all of us to identify ways to participate jointly in the life of the Law School.
So where does that lead us?  To volunteer for the Mock Interview Program if we're asked.  Assuming that the PILS Auction is an in-person event in 2022, to do our best to attend and to chat up some law students.  And, as always, to give generously to the Dean's Fund.
And by doing these things?  Who knows?  We all might find some nice surprises along the way.
David L. Bourne, Law 1988
P.S. Take a minute to enjoy a stroll through Eckstein Hall.