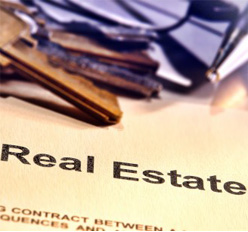 The real estate world had been rocked for several years. Millions of home owners were "under water," owing more on their mortgages than their homes were worth. Foreclosures were up and home sales were down. Commercial real estate also suffered. The real estate industry has rebounded, and we are again experiencing construction of new homes and office buildings.
Real estate plays a massive role in America's economy. Real estate lawyers are finding new ways to arrange financing, new ways to draft documents and new ways to serve their clients.
Marquette University Law School has positioned itself to accommodate the legal needs of today's real estate endeavors. New, cutting edge courses have been added to the curriculum in recent years. In addition to first-year Property, the Law School offers Real Estate Contracts and Conveyancing, Real Estate Finance and Development, Land Use Planning, Real Estate Drafting, Construction Law Litigation and Community and Economic Development in addition to more than half a dozen seminars, workshop associated clinics, judicial internships and supervised fieldwork programs.
Faculty
Full-Time Faculty
Professor Vada Lindsey
Professor David Papke
Professor Emeritus
Professor Alan Madry
Adjunct Faculty
Professor Marvin Bynum II
Professor David Farwell
Professor Teig Whaley-Smith
Curriculum and Courses
Course descriptions can be found in the online Law School Bulletin.
Please note that not every course is taught each year.
Student Organizations and Activities
Real Estate Law Society - The primary function of this student organization is to increase students' knowledge in the area of real estate, finance, tax, development and other issues that encompass the real property arena. The goal of the organization is to open networking channels between the students, alumni, and greater Milwaukee area.
Registered Student Organizations contribute to the vibrant student community at Marquette University Law School. Scroll through our list of organizations to find the one that suits you best and if you are a current student, you can click on the links to get contact information.