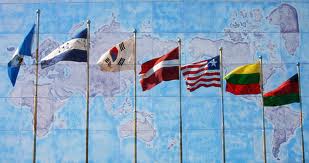 International law governs the way in which countries interact with one another, and is a dynamic and diverse area of legal study and practice.  News headlines frequently concern high-profile disputes over topics such as human rights, nuclear weapons, cross-border environmental dangers or intellectual property protection, and global trade and finance.  Historically, many believed that the unchecked power of the nation-state would prevent the development of an effective international legal system for the resolution of these disputes.  That belief, however, has slowly begun to change.  Today, international law covers a wide range of topics and influences the foreign policy of countries around the world.  International treaties regulate state behavior on issues as diverse as diplomatic practices, business transactions, and the militarization of outer space.  Customary laws govern topics such as international crime and human rights.  And international organizations often play a significant role in resolving transnational conflicts.  Understanding the contemporary world order requires an understanding of international law.
Marquette Law School has a growing curriculum for students who wish to study and practice in the field of international law.  We recently added new international law faculty.  Within the last few years, we have offered a significant number of courses with international dimensions, including Comparative Law, European Union Law, Immigration Law, International Business Transactions, International Law, International Intellectual Property, Comparative Constitutional Law, and International Litigation and Arbitration.  
The Law School provides numerous opportunities for students to study abroad, including the month-long summer program in Giessen, Germany, operated in collaboration with the University of Wisconsin Law School and Justus Liebig Law School in Giessen).  Semester exchange programs exist with the University of Copenhagen (in English) and l'Université de Poitiers (in French), and the newest exchange is with Universidad Pontificia Comillas Madrid (in Spanish).
Registered Student Organizations contribute to the vibrant student community at Marquette University Law School. Scroll through our list of organizations to find the one that suits you best and if you are a current student, you can click on the links to get contact information.