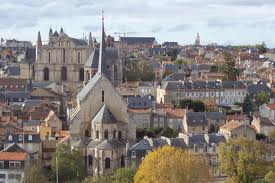 Marquette University Law School currently participates in an exchange program with the University of Poitiers. In an exchange program, Marquette students pay the same tuition and fees to Marquette that they would pay for a regular semester at Marquette, but are enrolled and attend classes at the foreign law school.
Established in 1431, the University of Poitiers is the second oldest university in France and counts François Rabelais, René Descartes, and Francis Bacon amongst its former students. Highly regarded within France, the University of Poitiers provides 24,500 students a full range of top quality courses in Science, Liberal Arts, Pharmacy and Medicine, Engineering, Law, Economics, and Management. Poitiers provides a student friendly environment with the highest per capita student population of any city in France.  About 15% of the students at the University are international students.
Poitiers is the capital of the Poitou region and is only a few hours from Paris by TGV (high-speed train). Located in the west of France, Poitiers is in close proximity to the Loire Valley, dozens of charming chateaux, an excellent wine region, and Basque country just to the south. The Futuroscope--part interactive learning center and part theme park--is located just outside Poitiers and pays tribute to the technologies of multimedia in several wildly imaginative pavilions. Normandy, Brittany, the French Riviera, the Alps, London, northeastern Spain, and northwestern Italy are all within half a day's train travel.
Today, Poitiers is a center for education, agriculture, industry and communications. A university town, it boasts a population of 120,000 and offers students a chance to live in a manageable-sized city while still being close to larger metropolitan centers in France. Many in France consider it the smallest of the big cities – une ville à taille humaine.
Students selected to participate in the exchange program will enroll in classes at the foreign law school according to procedures established by the foreign law school. In addition, students must enroll in the Law School course Law XXX Study Abroad – Poitiers University. Only the Law School course will appear on the student's transcript. Students will be awarded credit only for classes approved in advance by the Law School Director of Study Abroad Programs and for which the student earns at least the equivalent of a grade of C. All credits awarded will receive a grade of Satisfactory unless the student fails to achieve a grade of C in any class, in which case the student's transcript will show that the student earned O credits for the course with a grade of Unsatisfactory. Students will be awarded credit for classes taken in exchange programs depending on the number of hours of classroom instruction required by the foreign school.
Each semester, Poitiers University offers a limited selection of law courses that are taught in the English language.  Additional law courses are taught in French. However, as is the case with all exchange programs, students should be flexible in choosing courses and there is no guarantee that you will be able to enroll in your first choice of courses.  French language proficiency is mandatory for this exchange.
Applications for this exchange program can be submitted online through the Marquette Office of International Education website. The application deadline is March 1 each year.