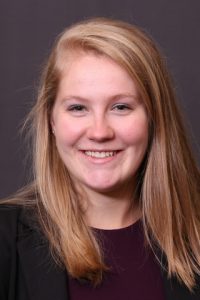 The 25th Annual Howard B. Eisenberg Do-Gooders' Auction on behalf of the Law School's Public Interest Law Society (PILS) will be held on February 16 at the Law School.  Proceeds from the event go to support PILS Fellowships to enable Marquette law students to do public interest work in the summer.  Shannon Strombom, a current law student, shares her experience here as a PILS Fellow.
Where did you work as a PILS Fellow?
Catholic Charities of the Archdiocese of Milwaukee.
What kind of work did you do there?
The legal services office of Catholic Charities provides immigration and refugee assistance to low-income clients. Over the summer, I got a chance to work on a variety of different immigration petitions and applications. This included responding to Requests for Evidence on a petition to Remove Conditions on Permanent Residency and Special Immigrant Religious Worker petitions, as well as writing briefs for asylum applications, and helping eligible legal permanent residents or refugees apply for naturalization.
Continue reading "25th Annual Howard B. Eisenberg Do-Gooders' Auction: Interview with Shannon Strombom"