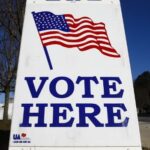 Today has National Voter Registration Day—a good time to remind everyone register to vote so that all eligible voters can make their voices heard on Election Day (which, by the way, is Tuesday, November 8). While Wisconsin allows same-day voter registration, save yourself the time and the hassle of doing it all on Election Day and register now.
You can register to vote online at MyVote up to 20 days before Election Day (para MiVoto en español, haga clic aquí), by mail up to 20 days before Election Day. This year, that means the deadline for online or mail registration is October 19, 2022.
You can also register in person at your municipal clerk's office until the Friday before Election Day, and you can register at your polling place on Election Day.
I'll explain how to register online at MyVote, but first let me explain who is eligible to register to vote in Wisconsin.
Eligibility to Vote
You are eligible to vote in Wisconsin if:
* you are a United States citizen, and
* you are 18 years old by or on Election Day, and
* you have lived for at least 28 consecutive days before Election Day in the election district or ward in which you want to vote, and
* you are not in prison on a felony conviction or on parole, probation, or extended supervision at the time of the election (also called "on paper).
If you are a student at one of Wisconsin's colleges or universities and are originally from another state, you can still vote in Wisconsin (but you cannot, of course, vote in both your home state and Wisconsin). And if you're a Wisconsin resident but at a Wisconsin college or university away from your hometown, you can vote where your college or university is.
Getting Ready to Register Online
Once you have determined you are eligible to vote in Wisconsin, you will need to register. If you have moved since the last time you voted, you will want to make sure you update your registration.
You can register online at MyVote if: (1) you are already 18 years old; (2) you have an unexpired Wisconsin driver's license or Wisconsin state identification card; and (3) your name, address, and date of birth on file at the Department of Motor Vehicles (DMV) match the name, address, and date of birth you are using to register to vote. Let's talk about each of these in turn.
First, to register online, you need to already be 18 years old. Those who will be 18 years old on or by Election Day can vote, but they will have to register through the hard copy paper process or in person on Election Day.