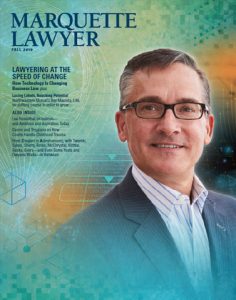 Navigating your path as a lawyer—the new Marquette Lawyer magazine offers approaches to how you might do that.
The cover story, "Practicing Business Law at the Speed of Change," includes insights from more than 15 lawyers whose work—together with that of their clients—is being shaped every day by advances in technology. Leaders of major firms, experts in the field, and lawyers at various stages in their careers describe how developments from the daily technology everyone uses (such as e-mail) to the most high-tech of today's changes (blockchain, for example) are affecting legal practice. Click here to read the story.
Paired with the cover story is a profile of Ray Manista, L'90, whose titles at Milwaukee-based Northwestern Mutual include executive vice president – chief legal officer. Manista describes how "changing labels" has been a key to his successful career. He was a litigator at a large Milwaukee firm but "changed labels" to become a member of the legal team at Northwestern Mutual. Several years later, he changed labels again to become involved in corporate leadership. "To be truly effective, I had to lose the labels," Manista says. To read his story, click here.
Lee H. Rosenthal, chief judge of the U.S. District Court for the Southern District of Texas, chose a thought-provoking subject about career paths when she delivered the E. Harold Hallows Lecture at Marquette Law School this past spring. "Ambition and Aspiration: Living Greatly in the Law" offers an essay version of her lecture on what priorities should guide members of the profession. Rosenthal's remarks are accompanied in the magazine by responses from eight lawyers, judges, and professors: namely, Diane S. Sykes, Darren Bush, Suzanna Sherry, Chad M. Oldfather, Nancy Joseph, Anna Fodor, Anne Berleman Kearney, and Peter K. Rofes. To read the full story, click here.
Continue reading "Latest Marquette Lawyer Magazine Offers Thoughts on Navigating Careers in the Law"