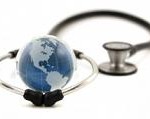 As Congress enters the final stretch in pushing forward a health care reform bill, I have been struck by the fact that during the ongoing debate very few people seem to pose the question of whether access to health care constitutes a human right.  Yet, in many countries around the world, this perspective forms the starting point of their national debates—and this consensus inevitably directs their public policy on universal health care. 
For example, while in Peru I received a grant from the Ford Foundation to conduct research on the right to mental health for survivors of the country's internal armed conflict.  In the course of the study, I interviewed many government officials, advocates from non-governmental organizations and ordinary citizens.  None of these people questioned the basic premise of my study which was that health is a human right, as enshrined in international treaties such as the 1966 International Covenant on Economic, Social and Cultural Rights (ICESCR). 
Article 12 of the ICESCR provides that "The States Parties to the present Covenant recognize the right of everyone to the enjoyment of the highest attainable standard of physical and mental health." The Covenant has been ratified by 160 countries in the world, but not the United States.  The 1946 Constitution of the World Health Organization (WHO) recognizes that the right to health is a fundamental right "without distinction of race, religion, political belief, economic or social condition."  Significantly, the United Nations General Assembly (composed of representatives from 192 member countries adopted a resolution in 2003 reaffirming the right to health.
Professor Eleanor D. Kinney, Co-director of the Hall Center for Law and Health at Indiana University School of Law conducted a study in 2004 found 67.5% of countries to include the right to health  in their national constitution.  The United States is the only industrialized nation in the world not to guarantee access to health care, through universal health care, as a right of citizenship.   
Given this global recognition of the right to health, I often wonder why Americans seem so afraid of moving in this direction and catching up with our peers.  Why is health reform so controversial? 
Is it the cost?  Maybe, except we permit millions of tax dollars to be spent daily on bank bail-outs, wars in foreign countries, emergency aid for developing nations, and even stimulus money to build our national infrastructure like highways and bridges.   One estimate puts the health reform cost at $1.05 trillion over 10 years, which is almost as much as we will spend on the wars in Iraq and Afghanistan by 2010 ($1.3 trillion).  However, since health costs currently outpace the growth of the economy, this initial up-front investment would lead to long term savings.
Is it a misunderstanding of what universal means?  People often believe that the right to health means everyone will be able to demand perfect health — the "right to be healthy."  But the ICESCR recognizes that the right to health is subject to "progressive implementation" and strives towards a minimum acceptable baseline that is attainable.
Is it a mistrust of government?  Some speculate that health care access and quality will decline if there is universal health care.  But more and more reports on comparative systems in places like Canada, France, the United Kingdom and Germany are debunking this claim.  National Public Radio covered the story of one American middle aged couple had to move to Mexico because his childhood polio problems prevented him from working, and she was denied coverage because she survived cancer twenty years ago—they literally could not afford to stay here (even though he was a retired military officer).  Once in Mexico, they were enrolled in the government health plan (which is tax dollar funded although the couple paid a few hundred dollars annually).  They reported that the care was "excellent."
Is there an unwavering belief in the free market?  Perhaps, but it seems that leaving universal health care to the market is not working.  According to the U.S. Census Bureau, nearly 47 million Americans, or 20 percent of the population under the age of 65, were without health insurance in 2008.
Some opponents to a government response to this market failure accuse the administration of being socialist.  This reaction really confuses me given that we seem to accept that certain public goods are so essential to our national well-being that the government involvement makes sense: public schools, national highways, police and fire fighters, libraries, to name just a few.  Are we then already a socialist country?
But to get clarity on this last issue, I asked my Chilean colleague Professor Pablo Contreras, while he was here during the student exchange with Hurtado University  how it is that his country has been able to sustain political support for a universal health care system.
I began, "Chileans don't worry that it is socialist?" 
Certainly, Latin America was the Cold War's physical battlefield.  General Pinochet, himself, ruled Chile with an iron fist for seventeen years as part of his crusade against communist leftist groups.  People still suffer the loss of their loved ones who were disappeared, tortured and killed as a result of this internal war.  So I figured that if anybody might be spooked by expansive government programs despite their thriving capitalism, wouldn't it be the Chileans?
I was wrong.
As he explained, "Despite the fact of the political differences, there is a consensus in order to secure some minimum living standards. There is, of course, disagreement in the way that the State applies this particular public policy but that hasn't been an obstacle to develop an intelligent system to secure minimal health standards. In some way, it's a correction of capitalism."
The Chilean approach begins with the principle that health is a human right.  But it is also practical. To compete in a global market, they understand that universal education is not enough. Certainly, a well educated—but sick—person is not productive.
Could our resistance to universal health care be simply a matter of ideology?  America–the land of opportunity— assumes a self-reliant folk will pull themselves up by the bootstraps Horatio Alger style.   We don't tolerate "free loaders" and "system abusers" (not my words, but rather terms I heard used recently by opponents of the proposed health care reform). 
But hold on.  Aren't the millions of people without insurance just like you and me? Maybe you have once been without insurance, or know someone in that situation?  They are usually ordinary citizens who followed all the rules, tried to be contributing and upstanding members of society—but alas, their bootstraps snapped.   You can hear their stories on National Public Radio: self employed, just out of college, excluded because of a previous medical condition, recently unemployed, retired but too young for medicare….the list goes on.  They were denied insurance or could not afford insurance which de facto translates into their having no access to health care.      
Insurance, of course, is a business that makes decisions based on the bottom line and not from the perspective that health is a human right ("human", i.e., living organism that needs health to survive or will die).  Yet, somehow our national debate is not about access to quality health-care facilities, goods, services and programmes (the United Nations standard) but rather mandated access to health insurance, with a possible government option that will compete with the private sector.   It seems the market has trumped our rights in directing our national debate.
So now I am wondering:  what will be the consequence for those families who defiantly choose to put their precious resources towards essentials like food and housing instead of paying their monthly insurance premiums?   Isn't there a reason why they can't afford insurance now?
The ideological starting point of our national health reform debate could lead to some rather strange outcomes.  As the world looks on puzzled, they may be wondering if Horatio will ever repair his bootstraps.