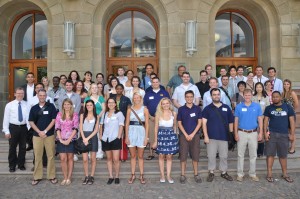 Here are the top ten reasons to attend the Summer Session In International and Comparative Law in Giessen, Germany sponsored annually by the Marquette University Law School and the University of Wisconsin Law School:
10. You can start a blog about your experience. 
9. Avoid the Milwaukee Brewers' annual mid-season collapse.
8. Frankfurt is the perfect jumping off point for side trips around Europe.
7. Get to know law students from exotic places like Brazil, Norway and Racine (see photo 1).
6. German mosquitos are itty bitty compared to Wisconsin mosquitos.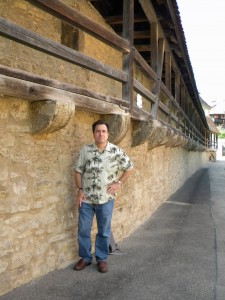 5. Beer mixed with lemon juice tastes MUCH better than you think.
4. Rumor that Fallone grades more leniently outside of the continental United States.
3. Relaxed dress code for faculty is surefire conversation starter at the bar after class (see photo 2).
2. Compare Great Cathedrals of Europe to Eckstein Hall.
1. Take substantive courses with a truly international faculty.
We had a blast.  I highly recommend this program for students looking for an educational experience next summer.