The First-Year Experiences at Marquette Law School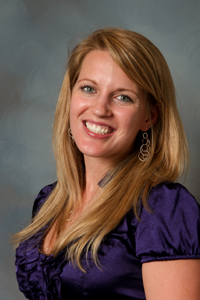 Courtney Hall
Congratulations and welcome to Marquette Law School! You have certainly chosen to come at a wonderful time as we continue to settle into the beautiful Eckstein Hall. I hope that you are as excited to come as we are to have you! As you get ready to join us, hopefully this letter will give you some insight into how to prepare and what to expect in your first year of law school.
I was in your position at this time last year, so I know that it can be an anxious time. When I came to Marquette, I had no idea what to expect in terms of Wisconsin or law school because I'm a Kentucky girl, and I will be the first lawyer in my family. So, here are a few tips that I found helpful:
Make the most of your summer. Though you may hear this from several people, don't ignore it. Law school is hard work, so take some time to relax and de-stress before you put your nose in Torts books and start writing papers. Have fun and spend as much time as possible with your loved ones because you are going to be pretty busy come fall.
Get organized and stay on top of things. If you manage your time and course work from the beginning, you will have more time for yourself and less stress during exams. It is really important to get your work done in advance, and it will make your life far easier.
Be involved. Especially for my fellow out-of-towners, this is one of the best ways to get to know your classmates, as well as 2 and 3Ls (Don't feel bad if you don't know what a 2L or 3L is; I didn't either. They're simply terms used to describe second- and third-year students). Different interest groups meet all the time with free lunch, and you are almost always welcome to attend those even if you are not a member of the group. This will help you learn what you are interested in and let you meet some 2 and 3Ls who can likely give you advice about everything from exams to job searching to how to find the best tailgate spot at Miller Park.
Don't freak out. The first time you get called on in class will be scary and intimidating, but you can do it! It gets easier, and don't worry if you say the wrong thing or sound silly because everyone does.
And finally, for all of the non-Wisconsin people like me, buy a winter coat and some warm snow boots. Trust me; you'll be glad you did!
I'm sure this short list does not answer all of your questions or quell every concern, so please do not hesitate to contact me. Considering how many questions I had last year, I will be glad to help make your transition easier. I'm looking forward to meeting you in August!
Courtney Hall
"Rising 2L"
Marquette University Law School