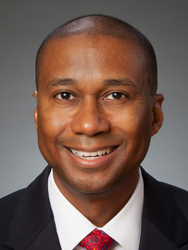 A MESSAGE FROM Arthur Phillips, L'90
I am delighted and honored to serve as president of the Marquette Law Alumni Association Board. Throughout the years, I have enjoyed a rewarding relationship with Marquette as a law student, alumnus, in-house counsel, and volunteer. In each role, Marquette abundantly provided more to me than I could ever return. I trust that many of you feel the same way about your unique experiences with Marquette.
By occasionally visiting this website, we have the opportunity to continue our relationships with the Law School and spark connections with Marquette lawyers. As you browse this website, you will see ample opportunities to stay informed about activities and events, learn what's new with your former classmates, continue your professional development through quality CLE programming, and join others working with the underrepresented facing legal challenges.
I encourage you to join the Marquette University Law Group on LinkedIn or become a Facebook Friend of Marquette University Law School. You can also follow the Law School on Twitter @mulaw. If you want to learn more about the events and activities through email, please email christine.wv@marquette.edu and you will be added to the list.
Finally, let us know about you. Share your recent professional and family news through the Alumni Class Note Form.
I look forward to serving you and welcome your suggestions for making your alumni association even better.
Arthur Phillips
Law 1990
P.S. Take a minute to enjoy an electronic stroll through Eckstein Hall.