Posted by: Peter O'Meara
Category: Immigration Law, Public
2 Comments »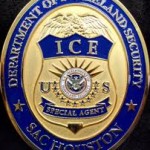 Prosecutorial Discretion from the Department of Homeland Security? I'll believe it when I see it. 
I spend a good amount of time reading through articles on the latest immigration buzz.  Since this summer, a lot of it has been centered on prosecutorial discretion in civil immigration enforcement. 
On June 17 of this year, Director John Morton of Immigration and Customs Enforcement (ICE) issued a memo meant to set guidelines on exercising prosecutorial discretion.  The June 17 memo, often referred to as "the Morton Memo", builds on an earlier memo setting enforcement priorities.  The Morton Memo acknowledges that the Department of Homeland Security (DHS) has limited enforcement capacity, and that it should focus its resources on aliens that represent the largest threat toU.S. interests. 
Let's look a little at the political background of the memo.  Hispanic voters gave President Obama a boost in the 2008 elections, at least in part because he supported a comprehensive immigration reform package (check out this WSJ post).  The president also said he would sign the DREAM Act, which came closest to passage in 2010, but couldn't get by a filibuster.  
In the meanwhile, the president, who had taken a lot of pressure from the less-immigration crowd, was also expanding enforcement operations.  The Obama administration has greatly expanded Secure Communities, an ICE program where local law enforcements officers provide biometrics of those they book so that they can be checked against the DHS database for immigration violations.  I think the political calculation was that by expanding enforcement, the administration could create a bargaining chip for other reform and at the same time not look too soft on immigration. 
As a result of Secure Communities and other heightened enforcement initiatives, there have been more removals (what we used to call deportations) per year under the Obama administration—close to 400,000 removals per year—than ever before.  As it works out, that hasn't thrilled the more-immigration crowd, including many Hispanic voters, who had helped out the president in 2008.  I hate to be cynical, but I think that the Morton Memo was meant to try to throw pro-immigration Obama supporters a bone. 
Now keep in mind that I'm an immigration attorney and my views may be skewed.  However, I think the Morton Memo, if it were actually used in a meaningful way, would make a lot of sense.  Even though there have been record numbers of removals the last couple of years, there are still something like 11 million people in the country without legal status—there are just not enough resources to remove everyone who is removable. 
The system is swamped.  Court dockets are ridiculous.  I'll give an example:  I have a client that was picked up in May 2010.  We went to court earlier this month for the client's first hearing, which was only a master calendar hearing—basically ten minutes in front of an immigration judge to see if the alien has any defense worth a longer, individual hearing.  My client got an individual hearing in September 2014.  Yikes. 
So the idea of the Morton Memo is that if ICE encounters someone, whether in a workplace raid or in court, who doesn't pose much of a threat and has been in the country a while (maybe was brought in illegally as a child), that they should, on a case-by-case basis, consider terminating the case.  (Mind, such a termination does not give the alien any legal status—it puts them in immigration limbo, sometimes with permission to work).  With courts so full and such a large pool of removable aliens to choose from, it makes sense to go after the most harmful and least established first. 
In practice, I haven't seen any change in the way removals are conducted.  Mind you, that is anecdotal, and I only see what happens in the courts—maybe enforcement priorities have changed drastically at the policing level.  But I haven't seen any numbers that would suggest any change, either.  I've read an article about someone who had their removal terminated.  I've seen judges ask DHS attorneys it they had considered requests for discretion submitted by respondents—some had, but none had agreed to it.  Today, as I was writing this blog, a colleague emailed me to tell me she had a case continued so that DHS could consider a request for discretion.  But nothing tells me that there has been any major policy shift, at least at the immigration court level. 
This past month, ICE issued another memo, this one mandating that just about all cases DHS has pending in the immigration courts be reviewed to see if discretion, as set by the Morton Memo, would be appropriate.  According to the memo, the initial review is set to end by January 13, 2012 (about two months).  Considering the staggering number of pending removal cases, I don't expect the initial review will do much more than help DHS realize that any truly meaningful review would have to last years and years.  Maybe this is the foundation of mechanisms needed to make the Morton Memo meaningful, but I'm not holding my breath.

You can follow any responses to this entry through the RSS 2.0 feed. You can skip to the end and leave a response. Pinging is currently not allowed.