An edited version of this piece appeared in the Milwaukee Journal Sentinel on December 30, 2021.
Fort McCoy — Write down every detail of what happened to you in Afghanistan that makes you want to never go back. Write down everything you remember.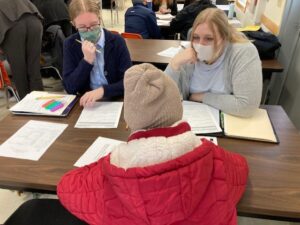 "I don't want to remember," the young woman said matter-of-factly in English.
For this, you have to remember, said Malin Ehrsam, one of two Marquette University Law School students on the other side of a table. Then, when you are done, you can forget.
For the Afghan "guests," as they are officially called, remembering is crucial – remembering the threats, the fear, the deaths or torture of relatives, the ominous daily events, the abrupt and chaotic flight about four months ago from Afghanistan, where the government had collapsed and the Taliban had taken over. After various stops, the journey brought about 13,000 of them to Fort McCoy, a military base near Tomah in central Wisconsin. Continue reading "Pro Bono Work Brings Law Students to Fort McCoy to Help Afghans Seek Asylum"