Posted by: J. Gordon Hylton
Category: Public, Sports & Law
11 Comments »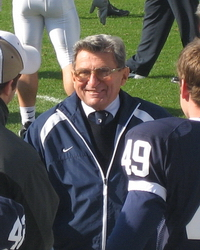 For the past several days, sports journalists, the callers to sports talk radio shows, and just about everyone else has weighed in on the appropriate way to punish Penn State for its failure to disclose the sexual crimes of assistant football coach Jerry Sandusky.
As the report prepared by former FBI director Louis Freeh makes clear, the late Joe Paterno, the long-time head coach of the Nittany Lions, was aware of Sandusky's crimes, at least since 1998, and took numerous steps to prevent them from coming to light. Paterno passed away shortly after he was fired last fall when the enormity of Sandusky's crimes was finally brought to light.
The current debate revolves around the appropriate penalty for Penn State for the misfeasance of Paterno and other university officials. Much of discussion has involved the question of whether or not Penn State is an appropriate candidate for the NCAA "death penalty," i.e., the elimination of its football program for a period of years. Technically, this penalty is available only for schools that were already on NCAA probation, which Penn State was not; moreover, as the Journal Sentinel's Michael Hunt  and others have pointed out, draconian prospective punishments would most directly harm current players and new coach Bill O'Brien and his staff, none of whom were in any way responsible for the scandal.
I would like to propose the following as an appropriate punishment:
(1) Require Penn State to forfeit all its football victories since 1998 (or whenever Joe Paterno first learned of Sandusky's crimes and decided not to report them). This would have the effect of removing Paterno's name from the top of the list of college football coaches with the greatest number of victories. No longer would his name be in any way associated with the concept of coaching excellence, and it would be a meaningful punishment, especially for someone who is already dead.
(2) Require Paterno's family to repay the more than $5 million dollar "retirement package" that Paterno negotiated while he was knowingly covering up Sandusky's transgressions. The idea that the university is contractually obligated to make such payments is absurd, as is the idea that it would have agreed to such an arrangement had Paterno revealed that he had been covering up the heinous crimes of his pederast pal for more than a decade. The money can be used to support the victims of Sandusky's crimes and Paterno's indifference.
(3) Tear down the statue of Paterno that sits outside Beaver Stadium, the Penn State football field. If Paterno's supporters in positions of power refuse to do so, then perhaps the good people of State College, Pennsylvania, will be inspired by the example of the residents of New York City in 1776, who on their own and in defiance of formal authority toppled the equestrian statue of King George III on Bowling Green and melted it down into slag.

You can follow any responses to this entry through the RSS 2.0 feed. You can skip to the end and leave a response. Pinging is currently not allowed.